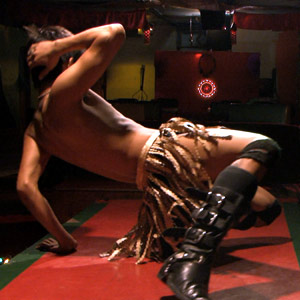 ---
Auraeus Solito once again presents a coming-of-age film afterhelming Ang Pagdadalaga ni MaximoOliveros (2005), Tuli (2005), and Pisay (2007).

This time, he explores the world of macho dancers through his latest worktitled Boy. In this film, a poetsells his collection of comic books and action figures so he can afford to hirea male stripper on New Year's Eve.

The film became controversial because it was not allowed to be screened publiclyat the 22nd Singapore International Film Festival (SIFF) for "normalizinghomosexuality."

The SIFF organizers suggested that Direk Auraeus show his film to the jury anda limited audience but the Filipino director declined. "I make a film not for ajury but for an audience," he says.

By doing so, he forfeited his chance to compete for the Silver Screen Award ofthe SIFF.

In 2005, Direk Auraeus also had to deal with Philippine censors when the Movieand Television Review and Classification Board drastically cut his film Tuli, starring Desiree del Valle andCarlo Aquino.

All of these are just part and parcel of being a director. Auraeus stresses:"The demon of censorship is one of the things that we filmmakers must face."
ADVERTISEMENT - CONTINUE READING BELOW


Boy will have its Philippine premiereat Cinemalaya Cinco this Friday, July 24,(6:15 PM) at the CCP Little Theatre. It is one of nine films competing for theNETPAC (Network for the Promotion of Asian Cinema) Jury Award.

Direk Auraeus has won the NETPAC prize twice before: Ang Pagdadalaga ni Maximo Oliveros bagged the prestigious award inRotterdam Film Festival, the Netherlands while Tuli earned for him another NETPAC during the 2007 Berlinale(Berlin International Film Festiva) in Germany.

PEP (Philippine Entertainment Portal) was able to interview Direk Auraeusthrough email regarding his latest work. Here are some excerpts from theinterview:

Where did you get the idea for Boy?


While I was in a party in the Toronto International Film Festival(where Pisay was shown), I was daredby a distributor (who loved Maximo)to make an erotic film and he will finance it. So I wrote a concept about a boywho falls for a macho dancer, yun pala usapang lasing lang. Eventually Ipresented it to Pisay (Philippine Science High School) friends from the U.S. and theydecided to fund it.
ADVERTISEMENT - CONTINUE READING BELOW

Why did you decide to create anothercoming-of-age film?

If you look at it all, my first four fiction features are coming of age films (Maximo, Tuli, Pisay and now Boy). Kasabay ko ang mga pelikula ko sa pag mature.I want to grow with my films.

How did you cast the characters of thisfilm?

I had auditions in macho dancer bars and in UP (University of the Philippines).Adam "Aeious" Asin is the unnamed poet. Aries Pena is the lead macho dancer.Madeleine Nicolas plays the mother of the poet and Nonie Buencamino plays the fatherof Aries.

Are you afraid of being edited out againby the MTRCB?
I have decided to show the film to the Filipino public. Itwill have its run at the IndieSine (Robinsons Galleria) by mid August. I havealso decided that I want to face the MTRCB and see what they will decide. Iwant to directly know what kind of people are running the MTRCB. From there...wewill see.
ADVERTISEMENT - CONTINUE READING BELOW
Jeremy Segay from Cannesthinks that we are still the most progressive in terms of censorship in theAsian region. I hope he is right. It isreally sad that the same laws that were from the Martial Law times are stillhere.

A reviewer from Jeonju InternationalFilm Festival said that Boy isreplete with social messages. What are these social messages that you wish toconvey?
After the People Power revolution of 1986, I thought thingswill change. I was a young idealistic boy, I guess. But now more than twodecades later, nothing has changed: the poor are still getting poorer and therich are obscenely getting richer. I never thought that I will be making theslum films that they made in the early '80s, much less a macho dancer movie.

But as I see my neighbors outside, the slums are still there: matatanda na ang mga tambay sa kanto--perotambay pa din. This film touches on that: on social class and on thedisillusionment of a revolution that could have improved our way of life in thePhilippines.
ADVERTISEMENT - CONTINUE READING BELOW


Which was more difficult for you: Tuli being cut by the MTRCB or Boy being disallowed in Singapore?
Tuli was cut (mindthe pun) without my permission. That was painful. Second time around, my boutwith censorship was much easier, since I have been there before. And the SIFF(Singapore International Film Festival) was very respectful of filmmakers sincethey have a no-cut policy.

They were also surprised that the Singapore censors disallowed the film,for they found it very progressive. That is why they were proposing to have thefilm still in-competition and just show the film to the jury (which I didn'tagree with and they respectfully accepted this decision).

SYNOPSIS. One evening, young buddingpoet (Adam) observes lip-synching drag-queens and dancing rent-boys (machodancers) in a gay bar. The poet finds himself attracted to Aries, who comesfrom a poorer part of town. Selling his comic books so as to be able to afford themacho dancer for one night, Adam's character buys Aries at the bar and bringshim home for the New Year.

Sparks flywhile celebratory fireworks go off outside the house and the boys forge afragile connection that neither of them is certain will last. Boy is a coming-of-age tale of asensitive boy who arrives at his first lesson about love and who learns to growconfidently into his own sexuality.


ADVERTISEMENT - CONTINUE READING BELOW