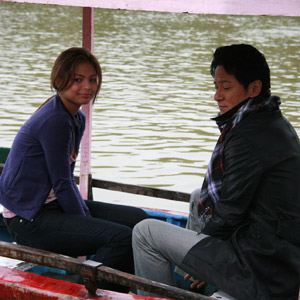 ---
The third full-length film byfilmmakers Paolo Villaluna and Ellen Ramos, WalangHanggang Paalam (Endless Farewell) will have its gala night at the Cultural Center of the Philippines this Saturday, July 25, at 6:15 PM.

This indie film is one of nine entries competing for the Cinemalaya-NETPAC (Network for the Promotion of Asian Cinema) Award.

WalangHanggang Paalam is the final installment to their so-called lovetrilogy, after Ilusyon (2005) andSelda (2007) where Direk Paolo and Direk Ellen explore thenuances and tragedy of human interaction.
An 18-year-old free spirited girlnamed Maria (Lovi Poe) elopes to Baguio with her boyfriend Ryan (Joem Bascon).Arturo(Jake Roxas), a private investigator facing his own demons, hasbeen hired by Maria's stepfather to search for her. At the same time, aJapanese businessman named Yoshi Imaizumi (Jacky Woo) learns that he has a terminal illness. He returns to the Philippines in search ofhis long-lost Filipina lover who left him years ago.

The paths of the characters will intertwinein a Baguio hotel, where they will not be able to escape their own fates.

Walang Hanggang Paalam became controversial in February 2009 because the Movie andTelevision Review and Classification Board gave it an X rating, preventing thefilm from being screened in time for its scheduled run at IndieSine, RobinsonsGalleria. (Click HERE to read related article)


A few days later, Lovi Poe happily reported that her first daring film receivedan R-18 rating from the MTRCB. (Click HERE to read related article)



ADVERTISEMENT - CONTINUE READING BELOW
Walang Hanggang Paalam tells the story offour lonely souls whose search for the meaning of love will conclude in tragicself-discoveries. The film is a disquieting treatise on how love, like lifeitself is underlined and decided by fate. Like their two previous films, PaoloVillaluna and Ellen Ramos's third film is an exercise in classicist forms,delivering a a restrained approach in narrative filmmaking.
Their collective short andfull-length filmography has represented the Philippines in several internationalfilm festivals including Pusan, Montreal, Thessaloniki, Melbourne, Torino,Yamagata, Rotterdam, Oberhausen and Singapore. Selda (The Inmate)is recognized as the first Filipinofilm to compete in the 32nd edition of the Montreal World FilmFestival as well as the 49th Thessaloniki International FilmFestival.

Not only that, Sid Lucero and Emilio Garcia won the Best Actor award forthe film Selda (The Inmate) at the 49th Thessaloniki IFF in Greece.


WalangHanggang Paalam(2009)
Cast: Lovi Poe, Joem Bascon, JakeRoxas, and Jackie Woo

Directors: Paolo Villaluna and Ellen Ramos
Producers: Forward Group and Feminine & Annex Inc.
Cinematography: Manie Magbanua Jr.
Production Designer: Timmy Harn
Sound: Allan Hilado
Music: Pike Ramirez / Veena Ramirez
Asst. director: Caloy Santos Jr.
Production manager: Bernice Ilagan
ADVERTISEMENT - CONTINUE READING BELOW