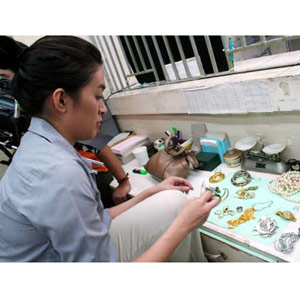 ---
Films centered on an ensemble cast, instead of just one or two maincharacters, is hard to pull off. It demands time to develop each character andmake each of them mutually relevant. Each cast member must have individualstories to tell, that when combined together form an encompassing tale. In the 2009 Cinemalaya Philippine Independent Film Festival, Sanglaan gived its own take on Pinoy ensemble films.

THE PLOT. People in need of money go to pawnshops to trade in their jewelryand other prized possessions, together with the memories that come along withit. They are right in thinking that sentimental value cannot feed hungrymouths, but it can be very hard to let go of things you have treasured for solong. Sanglaan is about letting goand the set of characters whose lives revolve around a dying pawnshop.


Tessie Tomas is the owner of the outmoded establishment who faces therepercussions of the failing economy. Jess Evardone plays the security guardwho has to resort to unconventional methods of raising money to pay for thehospitalization of his wife (played by Flor Salanga). And then there's InaFeleo, the socially awkward jewelry appraiser, who is hopelessly enamored withher high school crush (played by Joem Bascon).


ADVERTISEMENT - CONTINUE READING BELOW
THE VERDICT.
We've first seen Ina Feleo in
Endo
where she bagged the CinemalayaBest Actress award back in 2007. Once again, she delivers a charismatic andgenuine performance as the reserved but undeniably smitten woman who falls preyto Cupid's arrow.
We all know how great a performer Tessie Tomas is. However, she is laregly underutilized in the film. She wasn't able to display her full range and acting chops.
Meanwhile, the film's production values are undeniably bettercompared to its contemporaries. Scenes are strikingly lensed, albeit a bit toosimply. However, the film falters on pushing the right emotional buttons. Thetalent is there, both on-cam and behind the scenes. But with an insipidscreenplay,
Sanglaan
feels remotelyordinary.
Regular tickets to Cinemalaya are priced at P100 while students can buy tickets for only P50. A day pass costs P300 (good for 5 screenings per day) while a festival pass costs P1000 (can be used for all screenings).

For more information, please call the CCP Box Office at 832-3704 or
832-1125 local 1409. Tickets are also available at all Ticketworld
outlets and National bookstores at Tel No. 891-9999.



ADVERTISEMENT - CONTINUE READING BELOW
Fidel Antonio Medel is a cum laude graduate of the University of SantoTomas and a member of the Thomasian Writers Guild, the literary circle of UST.He also served as the editor-in-chief of the college paper.