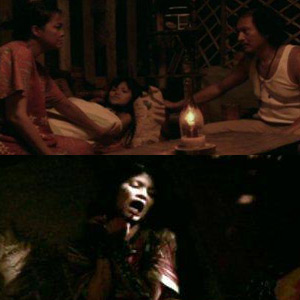 ---
Catchthe highly acclaimed horror movie Yanggawat IndieSine, Robinsons Galleria from July 29 to August 4, 2009.

This Cinema One Original horror movie is written and directed by Richard Somes. It stars acclaimed and multi-awarded actors such as Ronnie Lazaro, JoelTorre and Tetchie Agbayani and features a breakthrough performance by newcomer Aleera Montalla. Its storyline is deeply rooted on family values andfamily life.


Yanggaw is arguably the first Cinema One movie to tackle the dark side of a family trying to confront and exorcise its own problems.

Direk Richard recalls that when he wrote the movie's story approximately four years ago, he wanted Yanggaw to forego the clannish, grounded or sentimental attitude a familyhas over a member who has become a burden.


"Yanggaw is my statement to society. Yanggawis a metaphor of addiction, bad deeds or problems a family member does nanaapektuhan ang family niya. An example is a prodigal member whose existence isalready dark that he or she is unwanted already by his or her own family.Yanggaw will show what will happen to a family who has this type of a member.Kadalasan kasi sa pamilya kahit anong mangyari tanggap pa rin ang ganitongmember. Disagreeable iyon, e. So ang isang member na bulok ang existence, if afamily will keep him or her, the entire family will fall apart. Kung tutuusinmali iyon."


Direk Richard points out: "I wantviewers to see na sa pamilya rin, mayroong hangganan sa ganitong klaseng familymember, anak man or magulang. Compromises have to be done."


Yanggaw's story is about asimple family with an extraordinary problem. This family resides in a far-flung province where dark myths and superstitious beliefs still rule. Their lives became complex whentheir youngest daughter (played by Aleera Montalla) is stricken with an illness no doctor couldcure or diagnose. Suddenly they realize she is already...na-ya-yanggaw, slowly transforming into an aswang.


Yanggaw will be screened at Robinsons Galleria IndieSine fromJuly 29 to August 4, 2009.
ADVERTISEMENT - CONTINUE READING BELOW