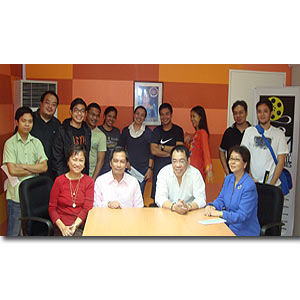 ---
The FilmDevelopment Council of the Philippines (FDCP) awarded the 10 finalists ofCinemalaya 2009 last July 16, 3 pm at the FDCP office.
In simple ceremonies, FDCP chairman, Mr.Rolando Atienza together with Cinemalaya president, Mr. Nestor Jardin awardedthe ten Cinemalaya Cinco finalists.

The following directors receivedtheir Php 100,000 each: Ana Agabin for 24k, Vic Acedillo Jr.for Ang Nerseri, Giuseppe Bede "GB" Sampedro for Astig, JonSteffan Ballesteros for Colorum, Michael "Mike" Sandejas for DinigSana Kita, Jose Lorenzo "Pepe" Diokno for Engkwentro, VeronicaVelasco and Jinky Laurel for Last Supper No.3, Jerrold Tarog for Mangatyanan,Alvin Yapan for Pangangahasa kay Fe and Milo Sogueco for Sanglaan.


The awarding ceremonies of Cinemalaya Cinco will take place tonight, July 26,at the Cultural Center of the Philippines. The screening committee ofCinemalaya chose the ten full-length entries from an initial list of 140 entries (scripts) from all over thePhilippines.



The committee announced the 18 semi-finalists as early as December2008. (Click HERE to view the films that became the semi-finalists).


The winner of the full length feature category will receive theCinemalaya Balanghai trophy and an additional grantof P200,000. Each full length feature category finalistwas given an initial P500,000 production grant and they must not exceedproduction costs of P3 million.


Meanwhile, a total of sixty-two entries were submitted to the short feature category ofCinemalaya 2009. The ten finalists that will be competing tonight are: Behind Closed Doors by Mark Philipp Espina, Blogog by Rommel "Milo" Tolentino, Bonsai by Alfonso "Borgy" K. Torre III, Hulagpos by Maita Lirra Lupac, Latus by John Paul S. Seniel, Musa by Dexter B. Cayanes, Si Bok at ang Trumpo by Hubert Tibi, Tatang by Jean Paolo "Nico" Hernandez, Ugat sa Lupa by Ariel Reyes and Wat Floor Ma'am by Mike Sandejas and Robert Seña.


For the short film finalists, the selection committee was composed ofTeddy Co, Manet Dayrit, Nick Deocampo, Lee Meily and movie director Joey Reyes.


The winner of the Best Short Film award will receive aP100,000 cash grant andthe Cinemalaya Balanghai trophy.
ADVERTISEMENT - CONTINUE READING BELOW
This is the second year FDCP awards thefinalists and is honored to be a partner of Cinemalaya once again. Cinemalaya, now on their fifth year, has achieved so much and is a testament tothe pioneering vision of its organizers, the consistent support of its sponsorsand audience and the courageous commitment of the new Filipino filmmakers.
UPDATE: The winners of Cinemalaya Cinco can be viewed by clicking
HERE
.