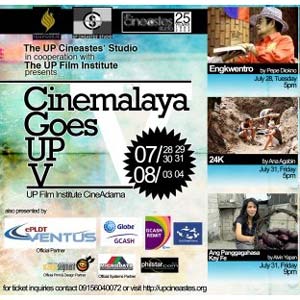 ---

The University of the Philippines Film Institute holds move-over screenings for this year'sCinemalaya. All the competing entries both for full-length and shortfilm categories are scheduled to be screend from July 28 to August 4, 2009. The fifth edition of CinemalayaGoes UP is organized by the student organization Cineastes.


July 28, Tuesday

5 p.m. - Engkwentro by Pepe Diokno



7 p.m. - Nerseri by Vic Acedillo Jr.

July 29, Wednesday

5 p.m. - Astig by GB Sampedro

7 p.m. - Last Supper No. 3 by Veronica Velasco and Jinky Laurel
July 30, Thursday

3 p.m. - Shorts A (Musa, Behind Closed Doors, Tatang, Hulagpos, Wat Floor Ma'am)


5 p.m. - Shorts B (Ugat sa Lupa, Si Bok at and Trumpo, Latus, Blogog, Bonsai)


July 31, Friday

5 p.m. - 24K by Ana Agabin

7 p.m. - Mangatyanan by Jerrold Tarog

9 p.m. - Ang Panggagahasa kay Fe by Alvin B. Yapan
August 3, Monday

5 p.m. - Colorum by Jon Steffan Ballesteros

7 p.m. - Dinig Sana Kita by Mike E. Sandejas
ADVERTISEMENT - CONTINUE READING BELOW
August 4, Tuesday

5 p.m. - Sanglaan by Milo Sogueco

7 p.m. - Best Picture (Last Supper No. 3)

Tickets are priced at P80. For ticket reservation and inquiries, you can contact 0915-6040072.
The winners of Cinemalaya Cinco can be viewed by clicking HERE