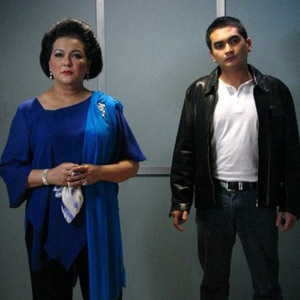 ---
Aday after the 2009 Cinemalaya Philippine Independent Film Festival, indie filmenthusiasts are still debating the list of winners. (Click HERE to view the complete list of winners in Cinemalaya Cinco.)



Spectators who did not get to see most of the films are just relying onreviews. That's why it's welcome news to learn that the University of the Philippines Film Institutewill be holding screenings of the competing entries. See the 10 full-length filmsand 10 short films from July 28 toAugust 4 at UP Diliman, Quezon City.


This is especially good for short films in the competition, which may have a moredifficult time getting screened outside of the festival. A total of 26 entrieswere submitted to the short feature category of Cinemalaya 2009 but only thenwere selected for competition. Here is a chance to see them again.

Screeningschedules for the short films at the UP Diliman are as follows: July 30, Thursday 3 p.m. - Shorts A (Musa, Behind Closed Doors,Tatang, Hulagpos, Wat Floor Ma'am) 5p.m. - Shorts B (Ugat sa Lupa, Si Bokat and Trumpo, Latus, Blogog, Bonsai).

Click HERE to view the schedule of the full-length films to be screened at UPDiliman.



SHORTS A

MUSA
Direction and Screenplay: Ariel M. Reyes

They say that one man's medicine is another man's poison. An old man whohas a habit of quoting poetic passages has gained a reputation for being afaith healer in the slun tenements. Tatang (Nanding Josef) can heal physical injuriesbut cannot bring the dead back to life, an ability that causes his neighbors toadmire but shun him at the same time. He shares this outcast situation with thegay parlorista (Carlon Matobato) who is the butt of jokes among the menbut a source of comfort among the women of the depressed neighborhood. Tatangand the gay beautician also share the same dream: that of a beautifulgodess-like creature who hounds them in their dream when they are in deepthought of their aspirations.

Musa is strong in technical aspects. The scenes are clean and thetransitions are smooth. However, without a solid story core, this goes to wastesince the audience is left confused rather than enlightened. My guess is that Musa is a take on man's subjective viewof things around him depending on how it favors him in the end.

BEHIND CLOSED DOORS
Direction and Screenplay: Mark Philipp Espina

Moving in flashbacks, Behind Closed Doorsis a passionate dark comedy about a stagnant relationship that survivesbecause of the small lies and narrow escape paths that both parties slip intoto preserve the status quo of the union.

Butch and Sarah are a married couple whose relationship is not as good as ithad once been. One night, Sarah finds a banana flavored condom among her husband'sthings. Butch, on the other hand, finds a vibrator between the sheets of theirmarital bed. Will their secrets be unraveled or will they choose to hide behindlies that are technically truths?

Behind Closed Doors is commendablefor its great storyline and its overall cohesion. Despite the numerousflahsbacks, the scenes fall back into place without missed details.


TATANG
Direction: Jean Paolo Hernandez
Screenplay: Ipe Asuncion

In the Cinemalaya Cinco program, Tatangdid not look promising. The story, after all, is about an old man who makesends meet by stealing with his grand daughter as his apprentice, a plot alreadyabused in television melodramas. But as it progresses, the curious relationshipbetween Tatang Ruding and the young Ester unfolds.

Refusing to accept their dependence on each other, Tatang Ruding verballydemoralizes Ester, calling her stupid. In turn, Ester spats back at him butexhausts her skills at theft to bring home food--all to prove to the grumpy old man thatshe is not stupid as he tells her she is.

Tatang is a fresh take on the modern parent-child relationship. Itdepicts how parents, for fear of not being needed, assert superiority at allcost and impose guilt on their children. Children, in turn, struggle to maintainindependence even as they are haunted by a life-long parental responsibilitythat their either resent or accept.

The film puts a positive spin on this gritty social reality by creating anunfortunate incident as a catalyst to reconcile the differences between Esterand Tatang Ruding and to show their acceptance of their symbiotic relationship.But this also caused the film to fall into the melodramatic trap in the endwhen Ester and Tatang Ruding hug ala Maalaala Mo Kaya. Nonetheless, it is oneof the better crafted and better thought of films in the shorts roster.


WAT FLOOR MA'AM
Direction: Mike Sandejas and Robert Sena
Screenplay: Robert Sena

In the souvenir program, the film evoked curiosity among viewers. After all, itinvolves a "flamboyant former First Lady of the Philippines,"undeniably an allusion to Madame Imelda Marcos herself, and a "Bad Boyactor from local cinema," another undeniable allusion to Robin Padilla,"trapped inside an elevator of an old government building." Ofall the shorts in the competition, I was looking forward to this one the most,imagining the shocking revelations and controlled drama in tight quarters.

However, Wat Floor Ma'am started tofall apart from the start. The combination of characters itself was notjustified. Why on earth did the imaginary Madame Imeldific got trapped in agovernment elevator with a mock-up Binoy was not explained. And who does Binoyrepresent anyway to ask Madame upfront: Did you really steal the wealth of the Filipino people?

I had high hopes for this film. Being claustrophobic, I imagined the pressureof being asked a painful and direct question in a cramped elevator in a decayingbuilding. All the reason for me to believe that the film is an ambitiousattempt at capturing a slice of Imelda Marcos' personality but only succeededin recreating in what is already there instead of creating a new interpretationof Imelda.

Wat Flor Ma'am is entertaining enoughbecause of its obviously comic elements like a Chinese man suddenly appearingfrom nowhere or the elevator suddenly being converted into a theater but that'sall there is to it.

HULAGPOS
Direction and screenplay: Maita Lirra Lupac

In an old townhouse, a young girl grows up under the watchful eye of heraustere mother. One of her mother's strict orders is to never to enter aforbidden room in the house. Overpowered by a child's curiosity, Angeli opensthe room and discovers her mother's terrible secret.

Hulagpos has a gripping dark ambiance that is consistent throughout thefilm. Through flashbacks, the mother's awful past is rendered like a gothictale of a desperate and forbidden love nipped too late. Inside the forbiddenroom, life-sized statues of Catholic saints tell Angeli the awful past withtheir furrowed brows and dark eyes.


SHORTS B

UGAT SA LUPA
Direction and Screenplay: Ariel M. Reyes

Ugat sa Lupa is like an Amorsolo painting that came to life: sunny openfields, clear-faced brown people, and colorful fabrics. It is a refreshingbreak from the gloomy settings of the other films in competition.

The non-dialog film dramatizes the hardships of a young a farming family livingin an island bereft of fresh water. To survive, they have to travel to anotherisland to fetch fresh water. Enjoying a simple and peaceful life but deprivedof a very basic need, the family's life is a mirror of man's basic existence onearth-a life of hard work.

Being a non-dialogue film that is not plot-driven, it automatically becomes amacting piece. At this point, we were not disappointed by Gerald Madrin andAngeli Urquico who plays the male and female leads. With the use of ambientsounds and simple music, we are lulled back to a bygone era of traditionalfamily life.


SI BOK AT ANG TRUMPO
Direction and screenplay: Hubert Tibi

Si Bok at ang Trumpo is a lighthearted take on childhood mischief. Ayoung boy named Bok irks his grandmother by making holes on her floor with hisold-fashioned toy top (trumpo). Theold lady then vents it out on Bok's mild-mannered mother for marrying a poorman who cannot afford to buy Bok more expensive toys other than his destructiveand antiquated trumpo. On top of it all,the neighborhood kids also tease Bok for having a mere trumpo for a toy. One day, Bok find his toy top broken and he knowshis grandmother did it. What follows is how Bok exacted revenge on everybody.

Despite having a very simple premise, the film is a huge crowd pleaser. Theaudience really loved how witty retorts were sprinkled throughout the movie.Jose Enrique Perez, who plays Bok, is disarmingly cute you can easily forgivehim for doing mischief. After laughing, the reality of childhood is there:children forgive but they do not forget.


LATUS
Direction and Screenplay: John Paul S. Seniel

Latus is an advocacy film fightingagainst corporal punishment at home. Based on the real-life stories of twoteenagers living in a slum area in Davao, Latus tells the story of Vicknelynand Jenelza, both 16 and physically abused by their fathers. Immune to pain andfrustrated with her situation at home, Vickenelyn joins young gang riots whileJenelza chooses the less detructive path and focuses on school. One day,Jenelza witnesses Vicknelyn having a crazy breakdown in front of her abusivefather and eventually became crazy herself.

Latus enters a world where women have long accepted that as long as aman puts rice on the table, it is alright for him to beat them.


BLOGOG
Direction and Screenplay: RommelTolentino

A young boy alienated by neighborhood kids finds a filthy, yellow ball-thatturns out to be a magical ball!-down by the creek. An film with no clearpremise, Blogog is enjoyable because of two things: it is open to manyinterpretations and has many funny moments.

After finding the magical ball, the boy finds contentment in solitude and evendiscovers a skill in basketball, symbolic of finding himself.


BONSAI
Direction and Screenplay: Alfonso "Borgy" Torre III

Bonsai is a touching anduncomplicated story of a man who does the unthinkable to win the heart of hislady love.

Romy (Richard Somes) is a plump and funny security guard whose aspirations inlife are as simple and manageable as the bonsai plants he care of in his sparetime. The only extreme of his emotions is his unexpressed love for Daisy (AngelAquino), the laundrywoman in one of the houses in the neighborhood. To win herlove, Romy does everything to lose weight. One day, he finds Daisy hanging outclothes to dry while sharing a pleasant laugh with an obviously moregood-looking and more physically trim stranger.

Bonsai is charming in the clean andlinear presentation of the story. Like Romy, its goal is simple: to depict aperson's insecurity and the extent of transformation one is willing to gothrough for love. It is also a reflection of the pain experienced by a shallowdreamer whose simple dreamsfail him.
ADVERTISEMENT - CONTINUE READING BELOW