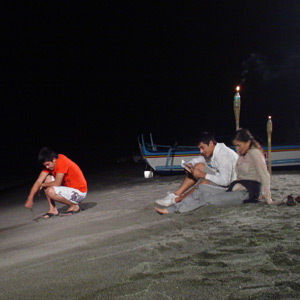 ---
Director Seymour Barros Sanchez's first full-length film, Handumanan, made its world premiere duringthe fifth Cinemalaya Philippine Independent Film Festival on July 22 at the TanghalangAurelio Tolentino of the Cultural Center of the Philippines.

Handumanan, which means "remembrance" in Visayan, follows the story ofthree strangers—the ailing romance novelist Sol (Chin-Chin Gutierrez), auditor andfrustrated writer Lean (Jason Abalos), and Brazilian model Carlos (AkihiroSato)—who are out looking for answers. Instead, their paths cross in theidyllic city of Dumaguete,Negros Oriental.

"Love triangle siya," Direk Seymour explains in an interview. "Nag-me-merge'yong different worlds. Ang main talaga is search for one's self. 'Yong title,parang statement ko din, although hindi ako nagsasalita ng Bisaya, gusto ko i-defend'yong language. Mas maraming Pinoy na nakakapagsalita ng Bisaya."

Direk Seymour, along with his wife Eloisa, co-writer Richard Legaspi, and thelead stars introduced the film to the crowd. This is Akihiro's first film andin his accented English, he thanked the crowd for the support.


ADVERTISEMENT - CONTINUE READING BELOW
Chin-Chin, who met with a real romance novelist inpreparation for her role, pointed out: "It is—once in a while—good to look backat our life journeys, see where we all started, our humble innocent beginningsto know where we all are going."

Jason wasn't able to attend the gala night since he had a taping for hisregular ABS-CBN afternoon teleserye, Kambalsa Uma.


Handumanan
was selected as one of the six finalists in the thirdProduire au Sud Film Workshop during the sixth World Film Festival of Bangkoklast year. It competed against other eight films in the Network for thePromotion of Asian Cinema (NETPAC) Award during Cinemalaya Cinco. However, theNETPAC Award went to
Baseco Bakal Boys
.
Handumanan
will be screened from
August 5 to 11
, 2009 at IndieSine (Cinema 8) of Robinsons Galleria.