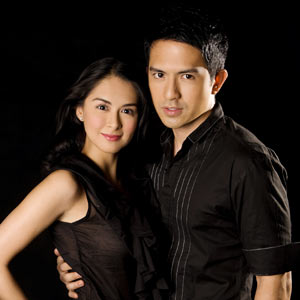 ---
After Pamahiin and Shake, Rattle and Roll X comes Tarot from Regal Entertainment. Touted to be Marian Rivera's scariesthorror flick, Tarot will open in theaters nationwide this August.
"Moviegoers should be expected to shout at the top of theirvoices from fear. This is really a scary movie. I was actually frightened doingthis film but I know people who like horror films will enjoy Tarot,"explained an excited Marian.
In Tarot Marian Rivera plays Cara who has a unique gift: seeing the future through her grandmother's tarot cards. As a child, she already predicted two deaths in her family. And after her predictions cametrue, Cara's mother Diana (played by Susan Africa) feared for the dangers thather daughter's psychic powers may bring her. She then stopped her daughter fromusing her gift.
Unfortunately, it was love that broke her promise to hermom. When her boyfriend Miguel (played by Dennis Trillo) went missing from ahiking session, a saddened and disturbed Cara was forced to use her gift tolook for him. Using the tarot cards to answer her questions, she opened apandora's box of dreadful revelations about her own life!
ADVERTISEMENT - CONTINUE READING BELOW
"When I was just starting in showbiz, the first horror filmI did was Pamahiin with Dennis Trillo. This is our second horror filmtogether. It's our reunion movie and as always, it was exciting working withhim again," she said.
Unlike in Pamahiin, wherein she was the one eliciting fearand horror, Tarot has her running for her life in horror.
"I was already scared of Tarot when I first read thescript they gave me. And when we started shooting, it was scarier than I everimagined. I'm also grateful to Regal Films, especially Mother Lily Monteverdefor this movie project," expressed Marian. Tarot is directed by Jun Lana.
Marian added that she enjoyed working with her director andadmired his vision for Tarot. She believes that they have achievedtheir goal with Tarot, which is to give a frightful and hair-raisingexperience to moviegoers.
ADVERTISEMENT - CONTINUE READING BELOW
Co-starring with Marian in
Tarot
is Roxanne Guinoo. Also in the cast of
Tarot
are Glaiza de Castro, RichAsuncion, Nina Jose, Ana Quiambao, Gloria Romero, and Celia Rodriguez. Regal, which is celebrating its golden anniversary this 2009, has been known to produce horror hits such as
Shake Rattle, and Roll
and
Tiyanak
.
From the same makers of Kulam,
Tarot
will surely be another scary adventure soon to open
August 26
in cinemasnationwide.