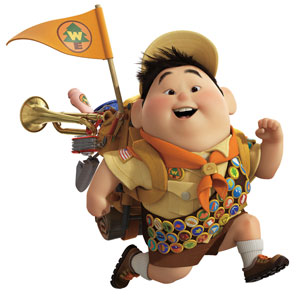 ---
Russell (voice of Jordan Nagai) is an enthusiastic and persistent 8-year-old Junior Wilderness Explorer. Armed with a backpack laden with official Wilderness Explorer camping gear, Russell is ready for the wilderness! There's just one catch: he's never actually left the city, in Disney/Pixar's new animated feature Up.

All of Russell's knowledge of the outdoors comes from books, and his sole
camping experience was in his living room. Russell proudly shows off his many Wilderness Explorer badges, including First Aid, Second Aid, Zoology and Master of Disguise. He's just one Assisting-the-Elderly-badge shy of achieving the goal of his lifetime: the coveted rank of Senior Wilderness Explorer. When he targets Carl Fredricksen (voice of Ed Asner) as the elder he will assist, Russell ends up as an unwitting stowaway on Carl's porch when the house takes flight, and finds himself on the true outdoor adventure he's been dreaming about.

According to Steve May, the film's supervising technical director, the character of Russell presented a few challenges. "Russell was difficult because he's just covered in stuff. He's a Wilderness Explorer, and he's got a neckerchief, and woggles, the little totems on the front of his badge, and then he's got this backpack—it's like he went to REI on a shopping spree, and he's completely loaded up with all that stuff on his back."

"Russell basically doesn't have a neck," adds character supervisior Thomas Jordan. "We had to figure out a way to animate him so that he looked right. We found that subtle changes in placing the eyes, nose and mouth on his face could make him feel too old or too young. One breakthrough came when we learned to strike the balance between simplicity and complexity of detail. We needed to bring out his chin to make him more of a caricatured egg shape. We accentuated the look, feel and behavior of a chin, and all of a sudden, that defined his face as separate from his body."

For the voice of Russell, the filmmakers tested 450 kids all across America. They found exactly what they were looking for in then 7-year-old newcomer Jordan Nagai.

Producer Jonas Rivera says that Nagai's brother, a talented actor with some commercial experience, actually came in to read for the part. Nagai was just tagging along. "Even though Jordan wasn't there to audition, we liked the sound of his voice," says Rivera. "He started talking about his judo class, and [co-director] Bob Peterson and I just looked at each other and said, 'There's Russell.'"

"One of the things that attracted us to Jordan," director Pete Docter says, "was when he just talked about nothing—judo or piano lessons or whatever—he would just meander and the way he spoke was so funny. That did influence the character of Russell quite a bit."

According to the novice actor, director Docter had a few tricks up his sleeve to ensure authenticity. "When I had to be exited or angry and loud, Pete would make obstacle courses around the table and I would have to run around. Then I'd go to the mic and say my lines. It would make my energy go up so I could say the line better."

Opening soon across the Philippines, Up is distributed by Walt Disney Studios Motion Pictures International. It will also be available in 3D version at Robinsons Galleria.


ADVERTISEMENT - CONTINUE READING BELOW