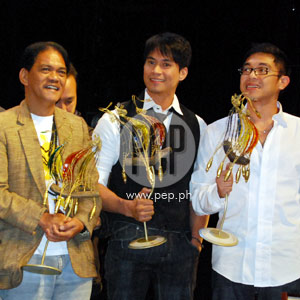 ---
There was no red carpet at theCultural Center of the Philippines but it was elegant just the same.

Last July 26, stars and personalities of Cinemalaya Cinco walked on a redwooden plank that was laid out at the main lobby of CCP. The organizers alsoset up a photo wall where hosts Gabe Mercado and theater actress Kalila Aguiloscould interview the stars before they entered the venue.

The very first couple to walk in was Alfred Vargas and his current girlfriendYasmine Espiritu. The GMA-7 actor portrayed the role of an FX driver in Colorum,one of the full-length films that competed at the recently concluded fifthedition of Cinemalaya Philippine Independent Film Festival.

One of the highlights of the Cinemalaya Cinco awards night was when ateary-eyed Lou Veloso accepted his Balanghai trophy for Best Actor atthe CCP Main Theater.

"To God be the glory!" said Louduring his acceptance speech. "Thank you for this wonderful night... Nandito yungwriter-director, si Mr. Joey Reyes, na nilagay ako sa isang character namahirap makawala: si Mr. Truman. Mula noon ay nakilala ako bilang komedyante atnagagawa ko lamang yung medyo seryoso rito sa entablado," he said as he was onthe verge of crying. "Cinemalaya gave me the chance na ma-fulfill yungfrustration ko as an actor."

Lou portrayed the agingex-convict Pedro in Colorum. "[To] all the actors of Cinemalaya Cinco, Iwould like to share this award, especially to my leading man, Alfred Vargas,"he quipped.

The project proved once againLou's versatility as one of Philippine entertainment's seasoned actors.

Lou also recently received a Patnubay ng Sining at Kalinangan recognition fromthe City Government of Manila, led by Mayor Alfredo Lim, giving the former adouble victory.


THIS YEAR'S JURY. The 2009 Cinemalaya jury was composed of Mark VincentEscaler, director of the Ateneo de Manila University Center for CommunicationResearch and Training; Aude Hesbert, head of Paris Cinema International FilmFestival; Aruna Vasudev, founder-president of NETPAC, film director Chito Roño,and actress Cherry Pie Picache.
ADVERTISEMENT - CONTINUE READING BELOW

Before the Balanghai trophies were handed out, thepresenters read the citations given by the jury regarding each category winner.Among the presenters that night were Dennis Trillo, Baron Geisler, IrmaAdlawan, Johnny Delgado, Alfred Vargas, Ryza Cenon, and Lance Raymundo.

This year's Best Picture, Veronica Velasco and Jinky Laurel's Last SupperNo. 3, was cited as Best Film "for the sheer panache of its storytelling,its treatment of comedy as an accessible and artistic form, its satiricaldepictions of individual naivete and the social fabric, and its ability to giveus something to laugh and think about at the same time..."
As Best Film in the full-length feature category, LastSupper No. 3 won P200,000 cash award, a Balanghai trophy and a post-productionpackage worth P1 million from Roadrunner Network plus a certificate for fullaudio post remix and remastering services from SQ Film Laboratories.
Two films tied for Special Jury Prize: Colorumwas cited "for portraying the moral differences between being idealistic andhaving principles in a captivating road movie about a young rookie and an agingex-convict..." while Ang Panggagahasa ni Fe was cited "for its mediationson the plight of Filipino women in a provocative tale that blurs the boundariesbetween the mundane and the mysterious, the real and the fantastic..." TheSpecial Jury Prize was given to these two films for "being exemplars of thepossibilities of filmmaking."
Best Direction went to GB Sampedro for Astig. He was cited "for storytelling excellence and technical brilliance in weaving the elements of the cinema into a coherent tale of tragedy and chaos..."


As Best Direction winner, Direk GBreceived the Balanghai trophy and a Canon XHG1 Kit Pro Video Camera worthP350,000. Astig also won threeother awards for Best Supporting Actor (Arnold Reyes), Best Sound(Ditoy Aguila and Junnel Valencia ) and Best Editing (CharliebebsGohetia).

In his acceptance speech, Direk GB revealed, "Three years ago, nangarap akongmakagawa ng pelikula. Maraming nangyari, maraming pagsubok ang dinaanan ko,maraming sama ng loob...Unang beses ko pong nag-try na pumasok sa larangan ngpelikula at 'di ko ine-expect na magiging maganda ang pagtanggap sa Astig."

ADVERTISEMENT - CONTINUE READING BELOW
He thanked the organizers of Cinemalaya and his entireproduction cast, adding: "Gusto ko ring ialay ang award na ito sa aking mgamahal sa buhay, sa aking mga anak, Jackie, Sophia and Gabby, sa lahat ng inspirasyonna binibigay nila sa akin." Of course, he mentioned his lady love, CandyPangilinan, who beamed with pride.

He ended his speech by saying, "At higit sa lahat, gusto kong ialay ang awardna ito sa tunay na Astig ng buhay ko: Lord, thank you!"


The Best Actress trophy went to Ina Feleo for Sanglaan. She gave life to a pawnshop counter girlfor the aforementioned film, making this her second triumph in the same category for the 2007Cinemalaya entry Endo. Ina was unable to receive her award personally so her sister Ana Feleo accepted it in her behalf.
Other awards in the Full Length Feature category were: Best Screenplay-Vic Acedillo for Nerseri; Best Supporting Actress-TessieTomas for Sanglaan; Best Cinematography-Pao Orendain for 24K;Best Production Design-Benjamin Padero for Mangatyanan; and BestOriginal Musical Score-Francisbrew Reyes for Dinig Sana Kita.


SHORT FEATURE CATEGORY. In the short featurecategory, the Best Film award went to Bonsai by Borgy Torre. Bonsai was cited "for its story ofhope and pain in love that can and do exist even in the most ordinary ofcircumstances..." Bonsai wonP100,000 cash award, the BalanghaiTrophy, and a Canon XHA-1 kit pro video worth P220,000. Audience Choice award went to Tatangby Nico Hernandez.
The Special Jury Prize in the short feature categorywent to Blogog by Milo Tolentino "for the power of its imagery and itsdepiction of the enchantment of childhood..." Meanwhile, Best Direction wentto Dexter Cayanes for Musa and Best Screenplay went to MarkPhilipp Espina for Behind Closed Doors.
ADVERTISEMENT - CONTINUE READING BELOW
For the first Cinemalaya-Network for the Promotion of AsianCinema (NETPAC) prize, a new section of the Cinemalaya, the honor goesto Baseco Bakal Boys directed by Ralston Jover. The film stars GinaPareño and real-life children metal divers based in Tondo.
Michael Sandejas' Dinig Sana Kita was winner of the NationalCouncil for Children's Television Award, which is given to the film thatpromotes family values. The award hopesto encourage young filmmakers to create quality content for children. Dinig Sana Kita also won the AudienceChoice Award in the full-length category and as such won a 50,000 peso cashaward.
During the awards night, CCPpresident Nestor Jardin lauded the impact of the annual film festival on thelocal movie industry and the viewing public.

"Those of us members of theCinemalaya organizing committee find it hard to believe that in a very shortperiod of five years, Cinemalaya has gone this far, that the audience, critics,members of the media and our foreign guests are unanimous in saying thatindeed, Cinemalaya has helped start an independent film movement in ourcountry. And this is a movement that has been producing quality films that tellus unique and inherently Filipino stories, a movement that is discovering newbreeds of Filipino filmmakers, and a movement that is helping build a criticaland appreciative audience of Filipino films."

Mr. Jardin recalled that in the 2008 Pusan InternationalFilm Festival, the Philippines was branded as "the new Mecca of independentfilmmaking in Asia." Since the initial installment of Cinemalaya in 2005, morethan 100 indie films have been produced, a number of which have gone on to winprestigious local and international awards.

ADVERTISEMENT - CONTINUE READING BELOW
Statistics from CCP indicate that 38,000 viewers watched films during the nine-day period of Cinemalaya.