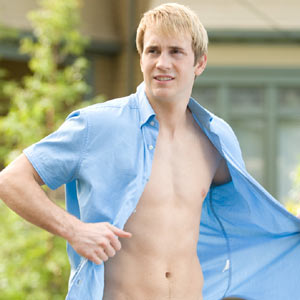 ---
Award-winning hip-hop choreographer Robert Hoffman (You Got Served) struts his way into the adventure-comedy Aliens in the Attic opposite Ashley Tisdale.

In the movie, Ricky (Hoffman) is the object of Bethany Pearson's (Tisdale) affection who manages to insinuate himself with Bethany's family in order to spend the weekend with her at the family's summer home. Uninvited guests continue to arrive without the Pearson's knowledge. The unexpected arrival of four aliens put Ricky under a spell, courtesy of a high-tech mind-control device and plug implanted into the base of his skull. When he is implanted with the device, Ricky shoots straight up on his feet, jaw slack, eyes glassy, and a strand of drool dangling from his lip.

Robert Hoffman (Step Up 2: The Streets), a noted dancer as well as an actor, used all his skills to create the mind-controlled version of Ricky, aka "Zombie Ricky."

"I had a lot of fun using my dance experience to really kick up the fun," he notes. "I got to fall on my back, jump, magically rise to my feet [from a prone position], get kicked down a flight of stairs, and run into cars."

Seeking to amp up the physical humor, Hoffman wasn't satisfied with fake "movie slaps." "I told [director] John [Schultz], I know how to make the scene funnier," says Hoffman. "And I just kept slapping myself harder and harder."

Robert Hoffman has completed production on several independent films, including Say Hello To Stan Talmadge with Agnes Bruckner and Jennifer Coolidge, the highly-touted '80s comedy Young Americans with Topher Grace, Anna Faris and Dan Fogler, and the comedy We Got the Beat, from writer/director Jon Artigo. He also recently wrapped production on the drama Burning Palms with Zoe Saldana, Dylan McDermott and Brittany Murphy.

Hoffman starred in Disney's box office hit, Step Up 2: The Streets, which grossed over $150 million worldwide. Other film credits include She's the Man, Bag Boy and You Got Served. Hoffman's past television projects include the crime drama Vanished, the sitcom Quintuplets and the improve show Wild N' Out.

Hoffman is a classically trained dancer and an award-winning hip-hop choreographer. He won the National Choreography Award for his work on You Got Served. He has danced in the films Guess Who? Coach Carter, Pirates of the Caribbean and Vanilla Sky.

He has worked with Christina Aguilera, Usher, Mya, Marilyn Manson and Ricky Martin; for Martin, he also served as a dance double in a music video.

Hoffman also showcases his talents on www.punchrobert.com, where he posts short films depicting entertaining and shocking self-created characters. These films were featured on the The CW'sOnline Nation.

Aliens in the Attic opens August 19 in theaters nationwide from 20th Century Fox to be distributed by Warner Bros.


ADVERTISEMENT - CONTINUE READING BELOW