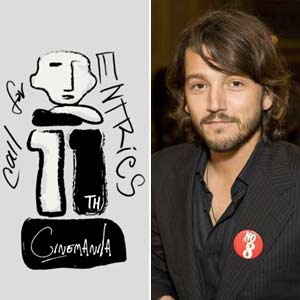 ---
Mexican actor Diego Luna (Y Tu Mama Tambien, Milk)and American screenwriter-film director Paul Schrader are expected to be the guests of honor in the 11thCinemanila International Film Festival. This film festival will be held from October15 to 25, 2009 in Bonifacio Global City, Taguig.

This was announced during the press conference of Cinemanila held last August 4at Fully Booked Bonifacio High Street.

A marching band played songs for the benefit of the guests, composed of membersof the press, staff of Taguig City Hall and celebrities. Those who attendedwere Anita Linda, Ana Capri, and the stars of Panahon Na, namely LuisAlandy, Lance Raymundo, Joseph Bitangcol, and Angeli Bayani. The host of theevent was theater actress Kalila Aguilos.

Leading the presscon were Amable "Tikoy" Aguiluz VI, founding festival directorof Cinemanila; Direk Dante, chairman of this year's jury; Robert Malengreau,international desk of Cinemanila; Anima Aguiluz-Slangen, festival co-director;and Kaye Tinga, co-chair of the 2009 executive committee.

Mrs Tinga is the wife of Taguig mayor Freddie Tinga, who has offered his cityas a "long-term" home for the annual film festival.

In an interview with the press, Taguig Mayor Tinga pointed out that hostingCinemanila is their way of making art accessible to his constituents, "The World Bank is saying [Taguig] is the mostbusiness friendly city. But together with the investment, kailangan mo 'to.Yung isang lugar, isang lungsod, patay yan 'pag walang kultura. Nakikita rinnamin sa tao namin na hinahanap nila ito. For them to hear a new voice, to havea new experience, we want do so much for our people."

He adds: "Namumulat ang isipan at pananaw ng ating mga kababayan natin. A moreknowledgeable, a more educated, a more open-minded population makes for astrong country."

Direk Tikoy also revealed what Cinemanila will have in store for festivalgoers."We will have a hundred films from 35 countries. We have a section for localfilms called Digital Lokal. But we have new sections and the continuation ofthe Sine Barangay project."
ADVERTISEMENT - CONTINUE READING BELOW
The Cinemanila films will be screened at Market! Market!Even the projection room at Fully Booked Bonifacio High Street will also betapped as a screening venue. The awards night for the festival will be held atthe NBC Tent, The Fort on October 23,2009.

Meanwhile, twenty-eight barangays of Taguig City are expected to participate inthe Sine Barangay program of Cinemanila.


DIEGO LUNA. Mexican actorDiego Luna has confirmed his attendance to the opening night of the 11thCinemanila IFF.


He is best knownfor his controversial role in Y Tu Mama Tambien (2001) alongside fellowMexican Gael Garcia Bernal. Some of hisother notable works include Amores Perros (2000), Nicotina (2003),Rudo Y Cursi (2008), and most recently, Milk (2008), where hestarred opposite Sean Penn as his obsessed lover. Luna is also the co-founder of Canana Films together with Gaeland Pablo Cruz.


Luna'sdirectorial debut, Chavez, is a documentary about Mexican boxer JuanCarlos Chavez. It was produced by Gaeland Canana Films. The film will be screening at this year's Cinemanila.

PAUL SCHRADER. Renowned screenwriter and director Paul Schrader willalso be coming to the Philippines to conduct a master class on screenplaywriting during the Cinemanila IFF.


ADVERTISEMENT - CONTINUE READING BELOW
Schrader is bestknown for penning most of Martin Scorsese's most memorable films such as TaxiDriver (1976), Raging Bull (1980), and The Last Temptation ofChrist (1988). He has collaborated with other legendary filmmakers as wellincluding Sydney Pollack for The Yakuza (1975) and Brian de Palma for Obsession(1976).


As a director,some of Schrader's most notable works are the landmark American Gigolo(1980) and the unconventional film Patty Hearst (1988). Schrader is alsoresponsible for Mishima: A Life in Four Chapters (1985) for which he wasnominated for the Cannes Palme d'Or. Hemost recently directed Dominion: Prequel to the Exorcist (2005), TheWalker (2007) and Adam Resurrected (2008.) In 2007, Schrader headed the International Jury of the BerlinInternational Film Festival.


SINE BARANGAY. This three-day event will bring the participating filmsand filmmakers from the Cinemanila to the neighborhoods of Taguig through freeworkshops and outdoor screenings.

Direk Tikoy says that this event is their way of bringing arts closer to thepeople.

"Excited kami dun sa barangay outdoor screening. We did a pilot last year perowe did it in Marikina. It was very successful, kasi ang concept nun, yung mgahindi nakakapanood ng indie films, dadalhin mo yung pelikula sa kanila. Kasiyou want to develop the audience. And then when they see it, they will realizethat Filipino stories are being told. Hindi lang siya pang-CCP. Pwede palamasakyan ng mga tao. So, dadalhin mo sa kanila. We will make the indie filmsaccessible."

Sine Barangay was launched in December 2008 as a component of Cinemanila. Itwas initially launched in Marikina City, and included workshops of filmappreciation and cinematography as taught by some of the country's leadingfilmmakers, including Raymond Red, Lav Diaz and Raya Martin. The event concluded in a free outdoorscreening of the 2008 Cinemanila short films.


ADVERTISEMENT - CONTINUE READING BELOW

MACHINIMA SIDEBAR COMPETITION. For the first time in the Philippines,there will be a Machinima sidebar competition that will be opened to thepublic. Machinima is a process that utilizes video games to produce short filmsand music videos.

Festival co-director Anima explained that the term originated from gamers whohave managed to create films even without a budget.

A portmanteau of "machine cinema," machinima is real time animation that relieson in-game artificial intelligence and digital puppetry. The first widelyrecognized machinima film, Diary of a Camper, was based on id Software'sQuake. The 100-minute short showcases the video game's action and gore but inthe context of a brief story. Another landmark machinima film is the EmmyAward-winning 2006 episode of South Park titled Make Love, Not Warcraft.It features manipulated footages from Blizzard Entertainment's widely popularMMORPG, World of Warcraft.


The contest is open to all individuals or groups, whetheramateur, professional or independent. All entries should be in by September21, 2009. Entries can be submittedonline at www.cinemanila.org.ph.
ADVERTISEMENT - CONTINUE READING BELOW

RETAINING ITS IDENTITY. Last year's Cinemanila was conducted at GatewayMall in Cubao, Quezon City. In previous years, it was conducted at Makati City.

Direk Tikoy was grateful that Mayor Tinga did not ask that the name of festivalbe changed.

"Hindi nila sinabing gawin itong Cine Taguig o Taguig CineManila. So,naintindihan kaagad ng aming partner na we need to maintain the identity of thefestival. So, talagang, they just want to support the festival and to encouragethe film culture and develop the audience," he explained.


The 11th edition of Cinemanila will be held from October 15 to 25, 2009in Bonifacio Global City in Taguig. Around 100 international and local filmswill be screened in a span of 10 days-from the current toasts of the localindie scene to award-winners and favourites at prestigious festivals such asCannes, Berlin, Rotterdam, Sundance and Pusan.

Wouter Barendrecht, the late co-chairman of Fortissimo Films and astalwart supporter of Asian Cinema, will be honored in this year's festival.
ADVERTISEMENT - CONTINUE READING BELOW
Cinemanila is currently accepting entry applications.Interested parties may submit their entries to any of the following categories:Main Competition (international features), Southeast Competition (features andshorts), Digital Lokal (Philippine full-length digital films), Young Cinema(Philippine short films), Documentary (international) and its newest section,Machinima (international). All other films not selected for Competition arestill eligible for exhibition.
Entries for the Digital Lokal Competition must bereceived by
September 4
. Deadline for other categories is on
August14
. For inquiries, email cinemanila.entries@gmail.com andcinemanila@gmail.com or go to www.cinemanila.org.ph.