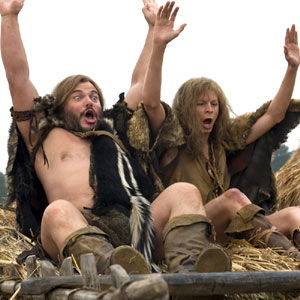 ---
When a couple of lazy hunter-gatherers are banished from their primitive village, they set off on an epic road trip through the ancient world in Columbia Pictures' new comedy Year One.

Taking that trek is none other than Jack Black who plays Zed in the film. "Zed is living a very tribal lifestyle in his primitive village with hunters and gatherers," he says, "but he's wondering if there's more to life than just hunting, gathering, and sleeping."

As the characters fleshed out on the page, director Harold Ramis has always seen Jack as his hero, Zed. "The whole time, I was thinking, 'Wow, this could be great for Jack Black," the director reminisces. "Jack really knows how to be silly and take big chances with comedy. He's incredibly sharp; there's a really great articulation to what he does."

Returning the compliment, Black says, "Harold loves actors—he encourages us to do our thing, he wants us to play." Black goes on to say that it's the approach that Ramis feels is right for the film, but also what Ramis himself seems to enjoy. "I could always hear him laughing from video village. Whenever I heard 'snortle chortle,' it warmed me. But I'd also be thinking, 'Keep it down and don't ruin the take!'"

Black was attracted to the project by the screenplay, which has a tone he admired. "I liked the script's attitude—nothing is sacred. It doesn't take anything seriously," says Black.

"Zed is very quick to assume that he's been chosen by the gods for some great mission," Black continues. "He thinks that will give him meaning in his life. He's a searcher. He wants to figure out what the hell is going on in this strange world."

Black most recently starred opposite Ben Stiller and Robert Downey, Jr. in Tropic Thunder. He also voiced the title character in the animated hit Kung Fu Panda, which took in over $215 million in the U.S. and was nominated for the Oscar® for Best Animated feature. He is currently in London filming Gulliver's Travels, set for release June 2010.

In September 2003, Black proved his box-office draw with a #1 opening for The School of Rock from director Richard Linklater and writer Mike White. Black received a Golden Globe nomination for Best Performance by an Actor in a Motion Picture—Musical or Comedy.

In December 2005, Black was seen in Peter Jackson's cinematic blockbuster King Kong, joining a cast that included Naomi Watts, Adrien Brody, Andy Serkis and Colin Hanks.

2006 saw Black starring in the box-office smash hit Nacho Libre, directed by Jared Hess (Napoleon Dynamite), and in the ensemble comedy The Holiday, directed by Nancy Meyers and also starring Kate Winslet, Cameron Diaz and Jude Law.

Opening soon across the Philippines, Year One is distributed by Columbia Pictures, local office of Sony Pictures Releasing International.
ADVERTISEMENT - CONTINUE READING BELOW