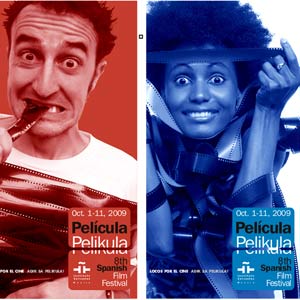 ---
It's a triple treat for film buffs as Instituto Cervantes de Manila brings back Película, the annual Spanish Film Festival, at chosen venues in Metro Manila from September 29 to October 11.

Now at its eighth installment, Película is the biggest and most anticipated festival of Spanish film in Southeast Asia. Due to the past successes of its first seven seasons, organizers have lengthened the film festival to 14 days, with three different venues in Makati, Pasay and Manila. Several cultural events have also been scheduled, in line with the theme of this year's festival: Locos por el cine or Adik sa Pelikula.

With new partnerships forged by Instituto Cervantes, the cultural arm of the Spanish government, and the strengthening support from Spanish filmmakers, last year's attendance by cinema enthusiasts is expected to increase this year. Last year, ticket sales was recorded at 15,000.

Opening this year's festival at the Cultural Center of the Philippines (CCP) on September 29, is an exhibit on Filipino filmmakers by renowned Spanish photographer Oscar Orengo. Featured in the exhibit—the first of its kind in the country—are local directors and actors from different generations like National Artist for Film Eddie Romero, Peque Gallaga, Brillante Mendoza, Lav Diaz, and others.

On that same day, a selection of Filipino and Spanish documentaries will be opened at the CCP. It will be followed by a dance performance by the Danza Vertical group that will display their world-class production to local audience.

On October 1, Película will kick off at Greenbelt 3 featuring multi-awarded films such as El truco del manco (The one-handed trick), Camino (The Way), Los girasoles ciegos (The Blind Sunflowers), Rotorno a Hansala (Return to Hansala), and 3 Días.

Other films include El Nido Vacío (Empty Nest), a comedy that explores the gap that occurs when children grow up and move away from home; and La Zona (The Zone), a film about a wealthy compound surrounded by walls and surveillance system to protect the locals against the violence of the slums.

Aside from its line-up of films in different genres, the film festival also gives tribute to Latin-American films with the Mexican and Chilean Cinema Night.

Also on October 1, an exhibition on the evolution of the Spanish cinema will be featured at the De La Salle University-College of St. Benilde (DLSU-CSB). Tagged as Crónica Visual del Cine Español (A Visual Chronicle of Spanish Cinema), the exhibit will be divided into the three periods of the Spanish cinema, aiming to recreate the journey of the films from the old Europe and Latin American tradition to the current contemporary style.

Running alongside the exhibits at the DLSU-CSB will be a series of workshops on scriptwriting and editing.

For more information, please call Instituto Cervantes de Manila at Tel. No. 526-1482. It is located at 855 T.M. Kalaw St. , Ermita, Manila.


ADVERTISEMENT - CONTINUE READING BELOW