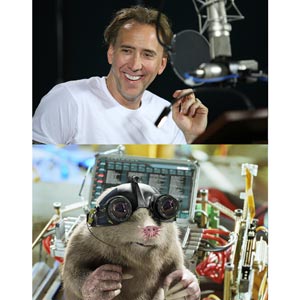 ---
Aside from the latest technologies that Walt DisneyPictures' G-Force employs to take the film to the next level, producer JerryBruckheimer says there's another aspect of the film that really makes thefour-legged G-Force work. "It's the humans who bring these animals and theirworld fully alive," says Bruckheimer.

Nicolas Cage (Knowing, National Treasure), a lifelongfan of animation, provides the voice of Speckles, the blind and brilliant,star-nosed mole.

A recent No. 1 hit in the U.S., G-Force is a comedyadventure about the latest evolution of a covert government program to trainanimals to work in espionage. Armed with the latest high-tech spy equipment,these highly trained guinea pigs discover that the fate of the world is intheir paws.

Tapped for the G-Force are guinea pigs Darwin (voice of SamRockwell), the squad leader determined to succeed at all costs; Blaster (voiceof Tracy Morgan), an outrageous weapons expert with tons of attitude and a lovefor all things extreme; and Juarez (voice of Penelope Cruz), a sexy martialarts pro; plus the literal fly-on-the-wall reconnaissance expert, Mooch, and astar-nosed mole, Speckles, the computer and information specialist.
ADVERTISEMENT - CONTINUE READING BELOW

G-Force was to be Cage's sixth collaboration withBruckheimer (with The Sorcerer's Apprentice soon to follow as the seventh),but one unlike any of the others. "Jerry showed me pictures of the G-Force characters and said I could play any role I wanted," says Cage.

"WhenI saw Speckles, something about it got to me, and I thought I could dosomething interesting with the voice. It was important to me to create a newvoice that was unrecognizable from my own vocal patterns. It was also importantto me to go into an area that had kind of a zany intensity. To me, that's whatwould make Speckles fun to play, and hopefully fun for the audience.

"One of my favorite actors, believe it or not, is MelBlanc," continues Cage, referring to the great vocal talent behind Warner Bros.cartoon characters Bugs Bunny, Daffy Duck, Elmer Fudd and Yosemite Sam. "He wasa marvelous character actor. We knew him only from his voices, so I thought itwould be fun to create a whole new voice for this marvelous looking little molein 'G-Force.'
ADVERTISEMENT - CONTINUE READING BELOW

"What was also important for me was to create a new voicethat was unrecognizable from my own vocal patterns that you may or may not beacquainted with," adds Cage. "It was also important for me to go into anarea that has a kind of zany intensity to it. To me, that's what wouldmake Speckles fun to play, and hopefully fun for the audience to watch."

Opening soon across the Philippines, G-Force is distributed by Walt Disney Studios Motion PicturesInternational.