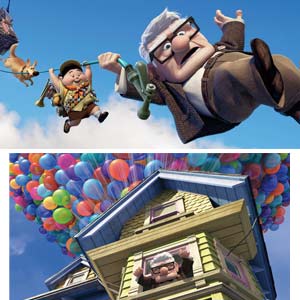 ---
Up, the uplifting tale of 78-year-old balloon salesman, whofinally fulfills his lifelong dream of a great adventure, is the 10th film fromDisney•Pixar, which has produced an unprecedented streak ofhugely successful films, including WALL•E,Ratatouille, Cars, The Incredibles, Finding Nemo, Monsters, Inc., Toy Story 2, ABug's Life and Toy Story.

Pixar now has nine of the 25 top grossing animated films ofall time domestically, and all nine have been #1 at the box office on theiropening weekends of wide release. WALL•E,Ratatouille, The Incredibles and FindingNemo all earned Academy Awards® for Best Animated Feature, an award thatwas introduced in 2001.

"I am so proud that Upis Pixar's 10th film," says John Lasseter, executive producer and chiefcreative officer for Walt Disney and Pixar Animation Studios. "I think it's thefunniest film that we've ever made, and also one of the most beautiful. We havea main character that is an amazing hero.


"Carl Fredricksen is 78-years-old andhe travels the world in a flying machine of his own design and still has dinnerat 3:30 in the afternoon. He's the most unlikely hero you can imagine in anaction picture. He is a character who learns that the big adventures in lifeare all the small things that happen in everyday life. Russell is one of themost appealing and charming characters that we've ever created. Together withCarl, these two characters light up the screen."
ADVERTISEMENT - CONTINUE READING BELOW

The film is directed by Pixar veteran Pete Docter, whojoined the studio in 1990—just the third animator to be brought on board. Alongwith Lasseter and Andrew Stanton, Docter developed the story and characters forToy Story, Pixar's first full-length feature film, for which he also served assupervising animator. He was a storyboard artist on A Bug's Life and wrote the initial story treatment for Toy Story 2. Docter made his debut as adirector on Monsters, Inc., which received an Academy Award® nomination forBest Animated Feature Film. As one of Pixar Animation Studios' key creativecontributors, Docter garnered another Academy Award nomination for his originalstory credit on Disney•Pixar's Oscar-winning WALL•E.

Docter says he's learned a lot over the course of Pixar's 10films. "It never gets easier," he says. "There are always new ways that the storyconspires to trick us, to fool us into thinking we have the right solution.It's only with a lot of reworking—and reworking and reworking—that you get goodstuff."
ADVERTISEMENT - CONTINUE READING BELOW

"We still don't know everything," he continues. "But we allowourselves to make mistakes. As Ed Catmull, co-founder of Pixar, says, 'if youdon't make mistakes, you're not taking enough risks.' I hope we never think ofourselves as experts—we learn something new on every film."

Opening across the Philippines on August 19, Up isdistributed by Walt Disney Studios Motion Pictures International.