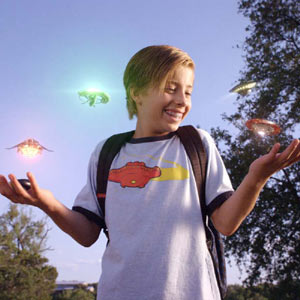 ---
He recently played the young James T. Kirk in J. J. Abrams' hit sci-fi-action film Star Trek and the boy tormented by his adopted sister, Esther, in the hit horror film Orphan. Now, Jimmy Bennett leads the ensemble cast of Warner Bros.' upcoming family comedy Shorts.

A not-so-tall tale about a rock that falls from the sky that gets picked up by the boy who made a wish that changed a town forever, Shorts unfolds through the eyes of friendless outcast Toe Thompson, played by Jimmy Bennett. "Toe is a nerdy kid who is always getting picked on," Bennett comments. "Every day he goes to school and they just keep picking on him and even dumping him in the trash can. But he was still a lot of fun to play."

Toe isn't the first to find the Rainbow Rock, but since the tale is told out of order at the whim of his own memory, Toe's episode marks the Rainbow Rock's entrance into the film when it gets lobbed at his head by a pack of bullies who are chasing him.

Bennett continues, "They are throwing rocks at him and don't even think twice when they see the Rainbow Rock; they just throw it at him. When Toe picks it up, the rock tells him to make a wish, so he wishes for friends that are just as cool and interesting as he is. What he gets are these little alien friends who try to help him, although it doesn't always work out. They cause a real ruckus, but, just as he wished, they are really cool."

The 12-year-old Bennett already had numerous acting credits under his belt when he captivated the filmmakers with his audition for Shorts. Director Robert Rodriguez recalls, "Jimmy walked in and just floored me. He may be young, but he brings a lot to the table. He can already carry a film and that's no easy task in a big ensemble like this."

Making matters worse for Toe, his main nemesis is a girl. "Helvetica Black is the leader of the town bullies and Toe is her favorite target," Bennett allows. "But secretly Helvetica likes Toe, and he secretly likes her, even though they would never admit it, especially to each other. They each think the other one doesn't like them...sort of like real life."

Bennett's additional film credits include Evan Almighty opposite Steve Carell and Morgan Freeman; Wolfgang Petersen's Poseidon, alongside Kurt Russell, Richard Dreyfuss and Josh Lucas; Firewall, with Harrison Ford and Virginia Madsen; producer Michael Bay's The Amityville Horror; and Hostage, in which he starred with Bruce Willis.

The young actor made his feature film debut in the hit comedy Daddy Day Care, starring Eddie Murphy. In addition, Bennett lent his voice talents to the animated holiday feature The Polar Express, starring Tom Hanks.

Opening soon across the Philippines, Shorts is distributed by Warner Bros. Pictures, a Warner Bros. Entertainment Company.
ADVERTISEMENT - CONTINUE READING BELOW