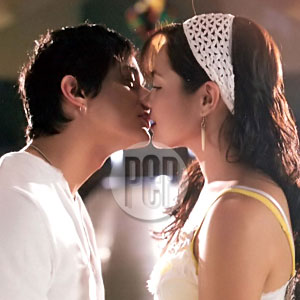 ---
The Quezon City Film Development Commission, in coordinationwith SM North EDSA, has subsidized the whole day screening ofmost-gender-sensitive film awardees at the SM North Edsa cinemas today, March30.
The special screenings will be held at the SAAN-SM NorthEDSA the Block Cinema 2 & 3.
Kasal, Kasali, Kasalo, the 2006 awardee, will beshown on Cinema 3 at 1 p.m., 5 p.m., and 9 p.m. This romantic comedy starsreal-life couple Judy Ann Santos and Ryan Agoncillo. It is about their quirkylove story made more complicated by the interference of their in-laws.
Blue Moon (awardee for 2005) will be at Cinema 2, at1 p.m., 5 p.m. and 9 p.m. The story revolves around an aging Manuel (Eddie Garcia)and his search for his lost love named Corazon. However, there were actuallytwo ladies named Corazon in Manuel's life: the nurse whom Manuel married afterWorld War II, and the spunky girl who was Manuel's first love in 1938. Theblossoming of young love between the dashing young Manuel (Mark Herras) and thetwo Corazons (Jennylyn Mercado and Pauleen Luna) in the '40s is counterpointedwith the dying Manuel's search for his one true love in the present day.
Aishite Imasu (awardee for 2004), will be screened atCinema 2, at 11 a.m., 3 p.m., and 7 p.m. Set in war-torn San Nicolas inDecember 1941, the townsfolk are unaware that war is nearly upon them. Inya(Judy Ann) is a lovely young lady who has just married her childhood sweetheartEdilberto (Raymart Santiago) and they're excited about starting a new family.Ignacio (Dennis Trillo) is Inya's bestfriend, a gay man who has been in lovewith the handsome Edilberto for years. Watch how the arrival of the Japanesethrows the town in chaos.
Homecoming (awardee for 2003) will be screened atCinema 3, at 11 a.m., 3 p.m., and 7 p.m. The movie tells the story of AbigaelEdades (Alessandra de Rossi) who returns to her hometown after a five-yearstint as a nurse in Canada. Her town mates welcome her as a hero but shebecomes a pariah when is diagnosed with SARS and contaminates her brother Noel(Bryan Homecillo).
ADVERTISEMENT - CONTINUE READING BELOW
There will be a 50-centavo discount on the tickets. Inaddition, the Quezon City Film Development Commission (which serves under MayorSonny Belmonte and Vice-Mayor Herbert Bautista), will hold an essay writingcontest (under the English and Tagalog categories) on why the films to bescreened are gender-sensitive. The grand prize winner will receive a cash prizeof P10,000 while the runner-up gets P5,000.
For more details, contact 4330235.