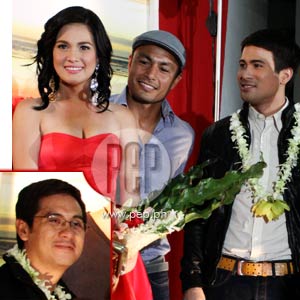 ---
Star Cinema has produced thebiggest romantic blockbusters of the late. Although there is no exact sciencein determining what makes moviegoers tick, the studio's success is definitelynot a product of plain luck or chance. They possess the formula that will make audiencesswoon, laugh, and cry in a heartbeat. Because of this, we often get romanticfilms that follow the same template as their predecessors.


In And I Love You So, director Laurenti Dyogiseemed to have made a checklist of the requirements of a romantic film fit tobe a box-office darling. Big stars: check. Humor: check. Family drama: check.Cheesy lines: check, check, check!
The fairy tale marriage of Lara(Bea Alonzo) and Oliver (Derek Ramsay) is abruptly put to a halt when thelatter died of aneurysm only five months after they rang the wedding bells.Aside from coping with the loss of her husband, the young widow also facesfinancial hurdles. She can't pay for the lease of her pre-school, so she isforced to rent out her condo unit. That's how she met Chris (Sam Milby), hertenant, who also 'lost' his better half.
ADVERTISEMENT - CONTINUE READING BELOW
Through chance encounters, thetwo eventually become close. Chris keeps on urging Lara to let loose, live herlife, and step out of the shadows of her deceased husband. So he asks her towrite all the activities she thinks she cannot do by herself. Her list includeswatching a movie, dining in a restaurant, parking her Forrester, and going outof town. Chris accompanies her to be 'alone.' Soon enough, the inevitablehappens. The two find themselves slowly falling in love. However, she feelsguilty for being happy, thinking that it is wrong to replace Oliver in herlife.
Sans the seemingly compulsorycheesy scenes, the script feels largely mature. It deals with issues that havemore weight vis-à-vis the average teenage love affair. The characters arepresented with difficult conflicts that reflect the harsh reality that noteverything that makes us happy is worth keeping. Sometimes, we have to let goof the things we want and love even if it hurts us. In real life, we do notalways get our happy endings.
ADVERTISEMENT - CONTINUE READING BELOW
But this isn't real life. This isa Star Cinema movie, and feel-good endings seem to be one of the requirementsin the filmmakers' checklist. The film should have ended ten minutes before thecredits rolled. However, hanging endings may not please the die-hard mainstreamaudience.
Not that I'm against happyendings, but isn't it better to let viewers decide for themselves what theoutcome will be? In true Star Cinemafashion, the film ends with a bang: a grand gesture of self-humiliation toprofess one's true feelings of love. Romantic, maybe. Kinda stupid andunrealistic, yes.
Despite the filmmakers' penchant forfairy tale endings, the film is still undeniably a genuine and mature lovestory. The formula has not worn off, but the affecting performances and strongscript compensate for the flaws. Prepare to swoon, laugh, and cry at DirekLauren's baton.
Fidel Antonio Medel is a cum laude graduate of the University of SantoTomas and a member of the Thomasian Writers Guild, the literary circle of UST.He also served as the editor-in-chief of the college paper.
ADVERTISEMENT - CONTINUE READING BELOW