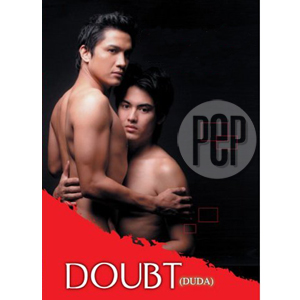 ---
The Independent Filmmakers' Cooperative (IFC) of thePhilippines and Robinsons Galleria Movieworld - Ortigas brings back thelandmark movies Duda/Doubt (2002) and Bathhouse (2003). Thesewere the first and second independent full-length digital video movies to beshown in local commercial cinema venues in their original video format.
IFC presents Con-queer-ing INDIE SINE: The Queer Cinemaof Cris Pablo which is a double-feature screening of Duda and Bathhouseon the following dates: March 30, 31, April 1, 2, 3, 4, 9, 10.
Duda/Doubt tells the story of Cris (Andoy Ranay), adocumentary filmmaker with a well-regarded body of work and a large communityof friends and admirers. He is also gay, and possesses a voracious sexualappetite, claiming to have had sex with over 4,000 men during his years offrequent cruising. But Cris has fallen for Eric (Paolo Gabriel), who has swornoff meaningless sex for the pleasures of monogamy. The tensions between the twotake a heavy toll on Cris, leading to a suicide attempt. Duda/Doubt wasscreened at the 2004 New York Asian-American Film Festival. This film starsJohn Lapus, Rey Pumaloy, Jojo Nones, and Bel Clerigo.
Bathhouse takes place in a Filipino bathhouse wheregay men congregate to relax and stage the occasional clandestine tryst, atragic mismatch leads to devastating consequences. A highly provocative dramafrom director Cris Pablo, Bathhouse takes viewers on a dark journey intoa world where meeting the wrong man could mean paying the ultimate price. Bathhouse stars Jet Alcantara, Ray-an Dulay, AndoyRanay, John "Sweet" Lapus, and Rey Pumaloy.
Screening dates: March 30, 31, April 1, 2, 3, 4, 9, 10.
Venue: IndieSine, Robinsons Galleria, EDSA cor. Ortigas Avenue, QC

For inquiries, contact 4369348 or 09273613814.