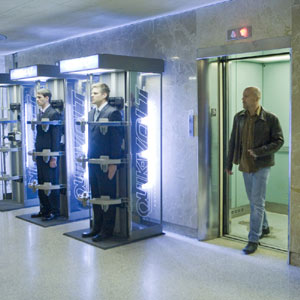 ---
In Touchstone Pictures' new sci-fi thriller Surrogates, people are living their lives far from the safety of their own homes via robotic surrogates—sexy, physically perfect mechanical representations of themselves. These robots are fit, good-looking, remote-controlled machines that ultimately assume the people's life roles—enabling the latter to experience life vicariously from the comfort and safety of their own homes. It's an ideal world where crime, pain, fear and consequences don't exist.

When the first murder in years jolts this utopia, FBI agent Greer (Bruce Willis) discovers a vast conspiracy behind the surrogate phenomenon and must abandon his own surrogate, risking his life to unravel the mystery.

In a world of masks, who is real and who can you trust?

Directed by Jonathan Mostow (Terminator 3: Rise of the Machines), Surrogates also stars Radha Mitchell (Pitch Black), Rosamund Pike (Die Another Day) and Vhing Rames (Mission Impossible).

Opening soon across the Philippines, Surrogates is distributed by Walt Disney Studios Motion Pictures International.
ADVERTISEMENT - CONTINUE READING BELOW