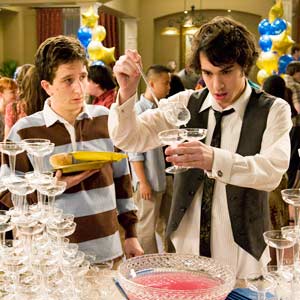 ---
In this age of virtual networking, nothing still beatsthe real world when it comes to bagging the best of times with our bestfriends. It is all these doing andundoing of things taboo during adolescent years that makes high school the mostunparalleled times for most, if not all.
Such is the case in the latest comedy I Love You Beth Cooper where upand coming young actor Jack Carpenter tackles basic teen issues under the magical hands of director Chris Columbus, who directed thefirst Harry Potter films—Harry Potter and The Sorcerer's Stone, HarryPotter and the Chamber of Secrets—and produced the third Harry Potter and thePrisoner of Azkaban.
JackCarpenter stars as Rich, alongside Hayden Panettiere in I Love You BethCooper. In the movie, Rich successfullygoads his best friend Dennis Cooverman (Paul Rust) into expressing his secretchronic l'amour of six years to Beth Cooper (Panettiere) during hisvaledictory address.
Forthe part of the flashy Rich, Jack T. Carpenter shares his own take on the placehe and Dennis occupy in the scheme of all things high school: "The characters Paul and I play are not thecomplete losers. It's just that we don'tquite fit in. It's where I was in highschool and that's something that I definitely connect to."
ADVERTISEMENT - CONTINUE READING BELOW
Rich is one of those great charactercombinations, then, of verbal acuity, physical comedy and a deep soul...think TheFool in several of Shakespeare's plays. And who wouldn't want to portray that?
Carpenter continues, "The thing I like most about Rich isthat underneath all of his shtick and his movie quotes, there's a realsincerity to the guy; he's a real human being who's had a really hardbackground. And he's trying to getthrough it. He's got these brand newshoes that he had to buy himself, because his father wouldn't get them for him;it's oddly symbolic, because he's just trying to dance his way through lifewithout concentrating too much on the bad stuff.
"Rich convinces Dennis to tell Beth he lovesher, because in the movie-influenced world of Rich, people who do that fall inlove. And even though things don't gothat way, he just doesn't concentrate on it. He goes with the flow, onto the next piece of bad advice he will giveDennis."
ADVERTISEMENT - CONTINUE READING BELOW
Jack Carpenter made his film debut in the teencomedy Sydney White with Amanda Bynes. Next up, he will show his range of acting in the drama Harvestopposite Robert Loggia and Barbara Barrie.
In 2006, just months out of Carnegie Mellon's School of Drama, Carpenternabbed the lead role of Adam Lipshitz, opposite Leslie Nielson in the NBCTelevision pilot Lipshitz Saves the World, which unfortunately neveraired. However, he later went on to arecurring role in the Fox comedy The Return of Jezebel James, opposite LaurenAmbrose and Parker Posie.
I Love You Beth Cooper from 20th Century Fox and distributed by Warner Bros.opens September 9 in theaters.