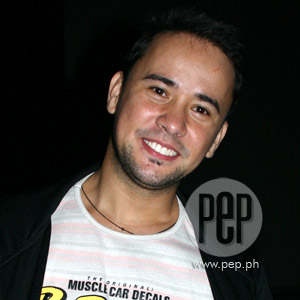 ---
Dinig Sana Kita (If I Knew What You Said), directed by Michael E. Sandejas, will have its commercial run from August 26 to September 1 at IndieSine, Robinsons Galleria, Ortigas Center. This indie film won the Audience Choice Award in Cinemalaya Cinco held last July.

Described by movie enthusiasts as "the most commercially viable," among the ten full-length Cinemalaya 2009 finalists, this is a love story between a Deaf dancer (played by newcomer Romalito Mallari) and a rock star (played by 16-year old Zoe Sandejas).

In an interview with PEP (Philippine Entertainment Portal), Direk Mike Sandejas pointed out: "We're going IndieSine because during the Cinemalaya Filmfest at the CCP (and the UP Cine Adarna, last July), a lot of people have been complaining...the tickets have always been sold-out. And they asked, 'how could we see the film?'

"So, when IndieSine called me, 'Would you like to have one theater, one week screening...?' I said, yes!"

Direk Mike explained that this wasn't the original plan for his new film, which won two other awards from Cinemalaya, namely Best Musical Score (for Francisbrew Reyes) and the Best Film (Kid's Treat), given by the National Council for Children's Television.

"Well, I already have sponsors, so after the IndieSine, we'll be going on a school tour and joining international filmfests," he said.

The prospect of showing Dinig Sana Kita abroad, through a couple of international film festivals--one in Toronto, Canada (in September) and another one, at the Brussels International Filmfest (in November)--excites direk Mike Sandejas no end.

At a recent meeting with Robert Malengreau, festival director from Brussels, Belgium, Direk Mike bared plans for the forthcoming event (BIFF is scheduled on November 3-8, 2009).

His daughter, Zoe, who played the troubled teenage rocker, and Rome will join him in the said European filmfest.

Rome Mallari is a Deaf actor who is a scholar taking up a course leading to a Bachelor in Applied Deaf Studies degree, with special training in Multimedia Arts, at the De La Salle-College of St. Benilde (DLS-CSB).

Already in his senior year, Rome made his instructors and classmates at the School for Deaf Education and Applied Studies (SDEAS) really very proud.

At the meeting, direk Mike invited one of SDEAS instructors, Ms. Giselle Montero, to act as Rome's interpreter. Through her, we learned that people like Rome Mallari and the DLS-CSB populace prefer that students be referred to as DEAF (with the capital D) and not "hearing-impaired" (which doctors use and pertains more to a person with a "damaged ear"). The opposite of Deaf people are called Hearing people. Ms. Montero also stressed that the school is referred to as DLS-CSB (or just De La Salle-CSB; not DLSU, which refers to De La Salle University).

Direk Mike reveals that Rome will play a crucial role in the 2009 edition of the Brussels IFF, which will take place in Belgium this November.

"DLS-CSB has a very influential organization that has special caring for the Deaf and one of its students, Rome Mallari, is our main actor. And Robert [Malengreau] wants him to deliver a [sign-language interpreted] speech during the festival," he said.

"I want the DLS-College of Saint Benilde to be aware of this, because the school wants to spearhead a festival of films on the Deaf as well."

"In which case, the relationship between the DLS-CSB and the Brussels Film Festival, starting with my film, would be a harmonious one. Because, to be honest, until I met Robert, I didn't know there was a so-called Deaf Film Festival (a section at the BIFF)."

For his part, Robert Malengreau is certain the Europeans will love to see Dinig Sana Kita (If I Knew What You Said), as it featured a Deaf actor in a very touching and honest portrayal.

"The Deaf are movie lovers," enthused Robert Malengreau. "Every year we do it, show films on the Deaf..."

Even without the ability to hear, the Deaf have the special capacity to understand (aside from reading the film's subtitles). "The light from them is through the heart," Malengreau pointed out.

"In which case, I expect more and I think we have to be exposed to what the world--the international Deaf community--is doing with films, so that they would learn from that example" added Direk Mike. "And you'll never know, maybe, someday 'Deaf-directed films' would be much better than the ones made by the 'Hearing', di ba?"

As an afterthought, Direk Mike (whose debut film, Tulad Ng Dati, was chosen Best Picture, among other major awards at the 2006 Cinemalaya), smiled and said, "Someday, I honestly want to see a film made by a Deaf director..."


* * * * *

Could that "Deaf film director" be Rome Mallari? Who knows? Given the guy's sensitivity and sheer determination, coupled with the fact that he is currently into arts, a filmmaking career isn't an improbability.

Ms. Montero explains that the Deaf can excel in all fields. Even in the art of dancing where music--and, therefore, the ability to hear is a must. "The Deaf can dance to the music by feeling the vibrations of the music, counting and special cues," she says.

Since filmmaking is a collaborative work, a Deaf with greater aspirations could slowly inch his way to the field--of course, with some generous help from friends. And there are a lot of them now, especially for somebody like Rome Mallari.

Direk Mike Sandejas shared with us a touching incident that happened during Dinig Sana Kita's screening at the UP Cine Adarna first week of August.

"After our screening [to an SRO crowd], I asked for volunteers to interpret our messages, and was surprised to find out there were a lot of Deaf viewers who came! So everybody started clapping and I was really touched--and a bit embarassed--but that was a great moment!"

Robert Malengreau, assessing the your actor's future, said: "I see that he [Rome] will shine. He will be very much appreciated in Belgium!"

To which, Direk Mike agreed.. "That opens doors for you, Rome. It's a good opportunity," he told the mestizo lead.

* * * * *

The afternoon, PEP sought the much-celebrated newcomer, at the DLS-CSB, for a follow-up interview (through Ms. Giselle Montero). That day, Rome had just arrived from a VTR appointment.

After Cinemalaya 2009, doors for showbiz career opportunities have, indeed, been opened for him.

But, stressing his point through sign languages, as interpreted by Ms. Montero, Rome qualifies, "My focus right now is on my studies, although I'm taking part in the promotions of our film because it's showing in Brussels and Toronto and IndieSine, of course."

Ever the unassuming and shy student Ms. Giselle has known him, Rome's fervent wish is to meet his real parents (at least, one of them; probably of Caucasian origins) but this seems impossible at the moment.

In Dinig Sana Kita, Rome's character named Kiko was reunited to his mom. In real life, Rome is also an orphan but he has yet to meet his biological parents. His foster father named Amerito Mallari, died of a heart ailment before he could reveal the identity of Rome's biological parents.

It hurt Rome to discover that his surname, Mallari (as indicated in his live birth certificate) wasn't his real father's.

"When his foster father died," Giselle informs, "Rome was told (by his relatives), 'You know, you're not a kadugo (blood relative), hope you don't take it against us... you're just an adopted child...' That was the first time he learned about his identity, and it was painful to him."

Rome was twenty years old then. Recently, he turned thirty years old (last August 15) and said that he has finally moved on. The young man is still under the care of his foster aunts but he fends for himself while studying college. He never dreamt of acting on the big screen but enjoys being in it after doing his debut film.

"I hope to meet new friends along the way," he also told Ms. Giselle.

With Dinig Sana Kita's screening in film fests abroad, Rome sees the importance of sharing with foreign viewers the values inherent in the story.

"So they can discover Filipino Deaf also," he added.

At the last Cinemalaya 2009 awards, was Rome disappointed to lose the Best Actor award to veteran actor Lou Veloso of Colorum?

He told Ms. Giselle, getting an award wasn't that important, as "looking for work, especially after I finish college."

About his leading lady, Zoe Sandejas, Rome told Giselle, "It was fine working with her; she also knows sign language and taught me details in the script through it..."

More than being just friends, Rome said he found in Zoe a sister.

"I didn't experience growing up with a sister with me at home, so I was happy to meet Zoe and treated her like one," he enthuses.

Did he find Zoe attractive and got a crush on her?

"Yes," he says, with a smile. "[But] we're just friends."

Does he already have a girlfriend at the moment?

"No," he assures.

Ms. Giselle repeated that Rome Mallari is currently a scholar at DLS-CSB and wants to focus first on finishing his studies.

As Rome's adviser, Montero also sees to it he maintains his grades so as not to lose his scholarship. SDEAS currently have 214 students (mostly scholars) and is on constant lookout for partners--volunteers who may want to work with the Deaf in the aspects of training, employment, business, special activities and humanitarian advocacy.

For those interested to study sign language, please contact DLS-CSB by sending an email to sdeas@dls-csb.edu.ph (or call 526-7441 loc. 139, 239).

ADVERTISEMENT - CONTINUE READING BELOW