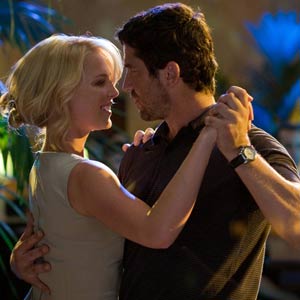 ---
Columbia Pictures pairs up Katherine Heigl (Knocked Up, 27 Dresses) against Gerard Butler (300) in The Ugly Truth, a smart, sexy comedy about men, women and the giant abyss that standsbetween the ways we each think about, fantasize about and try to seducethe other.

Heigl and Butler are cast as two co-workers destined to despise one another. She's out to find a sophisticated dream partner. He's on a mission to tell women to get real and admit that men have just one thing on their minds. Butwhen he decides to help her get what she wants, they both learnsomething unexpected about how even the most defiantopposites attract.

AbbyRichter (Heigl) is an ambitious morning talk show producer on "A.M.Sacramento" who prides herself on being able to find an instantsolution to any problem—any problem that is except her own unhappilysingle status. When it comes to dating, the always-in-control Abby has a flawless track record of failure.
ADVERTISEMENT - CONTINUE READING BELOW

Whenher show suffers a ratings slump, Abby is forced to team with the newlyrecruited special correspondent Mike Chadway (Butler), a man whocouldn't push more of her buttons. His "The Ugly Truth" segment promises to spill the beans on what makes men really tick. Buthis outrageously racy, gleefully chauvinistic, "shock jock" style rubsAbby in all the wrong ways and to make matters worse, becomes aninstant ratings bonanza, sealing his network status.

ThenAbby meets Colin, her neighbor, and he's a single doctor! He'severything Mike Chadway isn't—suave, polite, not remotely into jellowrestling—and this time, Abby doesn't want to blow it. She hates to admit it, but she needs Mike's insight into the male mind to make the right moves. Now,as Mike coaches Abby and Abby puts Mike's provocative seductiontheories to the test, they are both about to discover an ironic truth: as different as we might be, men and women share some of our most secret feelings in common.
ADVERTISEMENT - CONTINUE READING BELOW

Saysdirector Robert Luketic (Legally Blonde), "I think we're all startingto realize that men and women are wired differently and it's liberatingto be able to play with that in a movie that's honest and frank, butalso outrageously irreverent, about what makes us different and whatbrings us together. We are certainly all equal but the ugly truthis that there are things men need and there are things women need—andsometimes they clash, and yet...it's that difference that makesromance so exciting and wonderful."

He continues: "I like that this movie is a chance to chill out and laugh over this stuff. Becauseat the end of the day, when you strip away all the myths and all theposturing men and women take so seriously, both sexes keep falling inlove in spite of it all."

Opening soon across the Philippines, The Ugly Truth is distributed by Columbia Pictures, local office of Sony Pictures Releasing International.
ADVERTISEMENT - CONTINUE READING BELOW