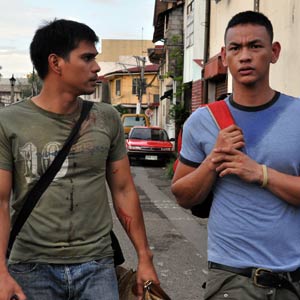 ---
Perhaps no other medium has beenmore zealous in bringing homosexual life to light—whether the public wants tosee it or not—than independent cinema. After the advent of digital technologyeffectively neutralized the prohibitive cost of 35mm film and made moviemakingaccessible to anyone who wanted to tell a story, gay filmmakers startedfeverishly making up for lost time. Taking their cues from the furtive effortsof Lino Brocka and Mel Chionglo from within the studio system (the Macho Dancer movies), independentfilmmakers started exploring the sordid, shadowy recesses of gay sex (BrillanteMendoza's Masahista, Cris Pablo's Duda), then tackling the aches ofsame-sex relationships (Ellen Ongkeko's MgaPusang Gala) and the pains of growing up gay (Jay Altarejos' Ang Lihim ni Antonio).

After Ang Lee's Brokeback Mountain made a splash at the2006 Oscars, perhaps it was inevitable that local gay cinema would soon invertstereotypical images of masculinity to suit its own narrative purposes.


In line with this, Monty Parungao released Bayaw,which had its debut this past July as a competitor in the Network for thePromotion of Asian Cinema (NETPAC) section of Cinemalaya.
ADVERTISEMENT - CONTINUE READING BELOW

Gay cinema is defined, for betteror worse, by its verboten status insociety. Ang Lihim ni Antonioharnessed some potent gay fantasies: having your way with the attractivefriend/hunky uncle who is lying asleep beside you. Bayaw, as its title suggests, utilizes another forbidden scenario:having your way with your strapping brother-in-law.


The twist is, neither ofthe film's two lead characters—a disgraced police officer named Nilo Vergara(softcore and indie film veteran Paolo Rivero), and his wife's brother Rhenan(Janvier Daily)—are actually gay. Humiliated for being made a fall guy for a drugbust gone wrong, Nilo kills his harpy wife Pia (Kaye Alipio) in a fit of rage,and goes on the lam with his hapless brother-in-law. Over the course of tryingto elude the law, the duo fall in with a petty thief (Andrew Miguel) and onoccasion vent their sexual frustrations on each other.

Whereas Brokeback Mountain's conceit lies in plumbing the depths oftenderness that masculinity takes pains to hide, Bayaw makes no apologies for how oppressive male heterosexualitycan be. The peripheral gay characters are either used as cash cows (Rhenanallows himself to be fellated by the neighborhood hairdresser to earn somegambling money) or portrayed as unwitting victims (a shrieking commuter iscaught in a sudden tricycle chase).
ADVERTISEMENT - CONTINUE READING BELOW

After cutting his teeth on softcorevideos for Viva Home Video, Monty Parungao has developed a stylish visualsense. He photographs the slums and side streets of Manila in a manner that isso claustrophobic, it seems that the characters are forever running withoutactually getting anywhere. There are also nighttime scenes lit by fires that summon the oblique lighting techniques in John Carpenter's Escape from New York—another movie that portrays an entire citythat has literally been transformed into a prison.

While I wish that Parungao had beenmore stringent in developing his narrative, applying more logic to hischaracters' motivations (the two leads mystifyingly allow a snatcher who hadearlier victimized them into their inner sanctum) and being more conscientiousin his structuring (a late-in-the-movie revelation which implies that themurdered wife got the fate she deserved feels a bit contrived), Bayaw eventually comes to the sameconclusion as Brokeback Mountain,albeit via a route that is more violent and less scenic: It ain't easy being aguy.
ADVERTISEMENT - CONTINUE READING BELOW


Bayaw will have its regular screening starting September 2 at Robinsons Malls namely Galleria, Metro East, Bacolod, Iloilo, Pampanga, and Batangas.