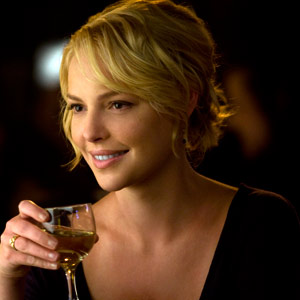 ---
Atthe center of Columbia Pictures' new romantic comedy The Ugly Truth is a woman who doesn't want to believe there could be an ugly side toMr. Right: Abby Richter, a tough, savvy career woman whohas long approached dating as a job, one which she unfortunatelybelieves requires checklists, dogged research and a set of standards sorelentless no one has come close to meeting them yet.

Shewould say she has high expectations but somewhere out there shebelieves there exists a man who will sweep her off her feet regardless. Who that man actually is, however, she could never have seen coming.

Toplay Abby, the filmmakers were looking for a leading lady with thesmoldering silliness of a classic screwball comedienne, able to delivera crackling one-liner while simultaneously possessing a vulnerablesensuality and a slapstick sensibility. Such actressesaren't a dime a dozen, so the list of contenders was short and quicklynarrowed down to one name.


Recalls producer Gary Lucchesi: "One day oneof the writers asked: 'Have you thought about Katherine Heigl?' Themoment I heard that, that was it. It was a great idea, we knew she was right and we pursued her vigorously."

Heigl,an Emmy Award winning actress for her role on the runaway hittelevision series Grey's Anatomy, has recently come to the fore in anumber of screen comedies, most notably taking the lead role as thepregnant woman in question in Judd Apatow's critically acclaimed Knocked Up. The entire creative team thought she had just the right qualities to make Abby as believable as she is blundering.

ForHeigl, taking up arms in the battle of the sexes was an irresistibleproposition. "What I loved about the script is that it provides insightinto what men are really thinking and why women get it wrong, and theother way around," she laughs. "We've all seen the standard romanticcomedies, and I think there's always a place for them because I'm a bigromantic comedy fan. But I like that The Ugly Truth takes that and brings a new edge to it. There's a lot of raw honesty inthe story but instead of taking it too seriously, it lets you laugh andenjoy the absurdity of the dynamic that goes on between men and women."
ADVERTISEMENT - CONTINUE READING BELOW

Still,Heigl does have plenty of sympathy for Abby's plight as well,especially when it comes to dealing with Mike Chadway (Gerard Butler). "The beauty of the story is that it gets to both sides of the argument," she comments. "Abbyis rightfully frustrated by her relationships with men and rightfullyconfused and thrown for a loop when she starts to fall for a guy likeMike who doesn't appear to have a romantic bone in his body."

Thegreatest joy of all for Heigl was verbally jousting with Gerard Butler."I have a real love of that sort of old Hollywood repartee that youdon't really see much anymore," she says. "Gerry and I found thatfast-paced, sparring dialogue so much fun. Even in your regular life,if you're out with another couple and they've got that great wittything going, it's the most entertaining thing to be a part of. And itkind of just happened seamlessly between us."
Openingsoon across the Philippines,
The Ugly Truth
is distributed byColumbia Pictures, local office of Sony Pictures ReleasingInternational.