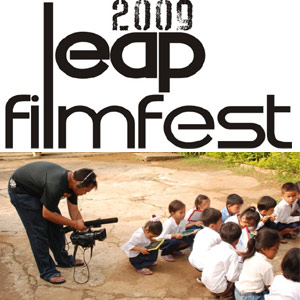 ---
Independent filmmaking in the Philippines just got busier.For filmmakers who have a big heart but have not yet gathered the guts to joina major film competition, this is a great opportunity for you.

VSO Bahaginan, an advocacy group that sends Filipinocommunity volunteers to developing nations, launches the 2009 Leap International Developmental FilmFestival, a non-competition film event featuring works that centeron social change. This year, the themes are environment, women empowerment,children's rights, and volunteerism. The festival runs from September 2 to29 nationwide.

"The films we show are intendedto educate the people, especially the young," says Arvin Dimante, the festivaldirector. "It's kind of difficult to introduce a new film festival but we arevery happy about it."

Fourteen films, produced mostlyby non-government organizations, were chosen for screening. The first batch offilms were collected by tapping embassies and volunteer NGOs worldwide. Thesetouch subjects such as sexual crimes against women and children, environmentalprojects that advance the welfare of people in small communities, andexperiences of community volunteers.

The annual festival will acceptentries of any film genre, even animation, but these must be centered on thedevelopmental themes announced for the year. The festival will start accepting entries for 2010 in January when it willalso announce the next themes.

There is also no limit to filmlength or treatment, but heavy subjects must be discussed with sensibility andthat the films should not be used to make political statements benefiting acertain party.

"We have no strict requirementsbut the films must have a developmental content," says Dimate "It must have asuggestion and a solution at the end. This year, the main theme isvolunteerism."

Shown on the festival's openingnight last Tuesday, September 1, were Panudlak(Welcoming the Dawn) by Iloilo-based filmmaker Ray Defante Gibraltar and RV (Returned Volunteers) Diaries by MiloAlto Paz. Both were produced by VSO Bahaginan.

Panudlak tells the story of two VSO volunteers who were sent on atwo year mission to impoverished villages in Cambodia. The progress of theirmission is told against the background of the panudlak, the ancient Hiligaynon planting season ritual used as ametaphor for sowing and reaping graces through volunteer work.
ADVERTISEMENT - CONTINUE READING BELOW

"Noong bata ako, kapag tinanongng teacher 'Sino gusto magbura ng blackboard?' sinasabi ko ako. Kapag tinanongnaman 'Sino gusto magdilig ng halaman?' nagtataas rin ako ng kamay. Kaya noongnaghanap ang VSO kung sino ang gusto mag-direct ng pelikula, sabi ko ako,"Gibraltar shared during the festival opening.

RV Diaries, on the other hand, is a documentary on how the lives oftwo VSO volunteers changed after coming from their missions abroad.

"While working on the film, wethought of brain drain in the Philippines. Like why send Filipinos to volunteerabroad when people in our country need help? But when the volunteers returned,we saw that they appreciated the country more. Lumawak ang perspective nila samundo," Paz shared.

Other films that will be screenedare Barometer by Rico Panganiban; Daughter, A Story of Incest; Red LeavesFalling; and A Good Boy, A story of phedophilia by Monica Ray; Bound by the Bay and The Fields of Sta. Josefa by ElnoraImbing Ebilio; Nomad Camp 7 byUlysses Sison; Curitiba, It's Possibleby Paul Romauch; Organic Life by HaThi Lan Anh; Still Life Moving byPaul Zetter; The World in Orbing Colorsby Mai Dinh Khoi; and In Homonhon byCha Escala.

Screening dates and venues are asfollows: Sept. 9 to 15 at Robinson's Movieworld in Ermita, Manila andMetro East, Pasig; Sept. 16 to 22 in Robinson's Movieworld in BacolodCity and in Iloilo City; and Sept. 23 to 29 in Ayala Cinema Cebu Cityand Greenbelt 3 Cinema in Makati. On September 28, there will also be ascreening at the Robinson's Movieworld in Robinson's Galleria.

The festival will also have anationwide campus tour from November 16, 2009 to March 2010. In October, it will travel to Shenzen, Chinaand to Hanoi, Vietnam in December.

Filmmakers who are interested in being part of next year'sLeap Film festival can contact Arvin Dimate at Tel. No. 212-9499 and09291838518. Interested parties can also email them at info@leapfilmfest.org or visit www.leapfilmfest.org
ADVERTISEMENT - CONTINUE READING BELOW