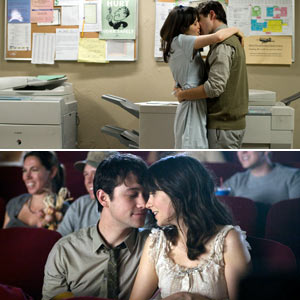 ---
For thosewho have loved and have been dumped, 500 Days of Summer takes the hopeless romantics back in time whentheir whimsical hearts have been crushed that leaves them holding on tobittersweet memories.

500Days of Summer casts away all pretensions in a boy-girl relationship in afunny true-to-life and unique dissection a young man's no-holds-barred loveaffair starring Zooey Deschanel (Yes Man) and Joseph Gordon-Levitt (G.I.Joe). In the movie Tom (Levitt)believes in a lightning-strikes-once kind of love. Summer (Deschanel), on the other hand, doesn't. But such reality doesn't stop Tom from goingafter her, again and again.

Day 1 begins when Tom, a would-bearchitect turned sappy greeting card writer encounters Summer, though seeminglyout of his league, Tom soon discovers that they have a lot in common.

Fastforward to day 32, things have moved ahead between them, "casually." Tom is irreparably smitten, living in agiddy, dreamy world of Summer on his mind. By day 185, things are in a limbo—the story winds back and forththrough Tom and Summer's on-again, off-again, sometimes blissful, oftentumultuous dalliance. Theirs is akaleidoscopic portrait of a relationship from the dizzying stage ofinfatuation, dating and sex to separation—the movie then takes us to a whirlof time jumps, split screens, karaoke numbers and cinematic verve, in a fusionthat tends to engage us as to the why and the how we still struggle solaughably and cringe so hard to make sense out of the word we call love...and tohopefully make it real.

Director Marc Webb, who marks his film debut with 500Days of Summer, lost interest in the romantic comedy genre somewherebetween his puberty stage and when he started paying taxes. But when one day he finally got to read thework of writers Scott Neustadter and Michael Weber, a script that is equallyautobiographical—something clicked. 500 Days of Summer as he found out is about a conjured up relationshipthat is both artful and truthful. "We all know Summer because Summer isn't justa girl. She's an event. I met my first Summer when I was 17. She got me to skip class. At the time, I believed that love was themagic pill that would connect my soul to the universe," says director Webb.
ADVERTISEMENT - CONTINUE READING BELOW

He further notes that "Inmaking this movie, my first feature film, it is the happy ending that I didn'thave with Summer. It's a whiff of theuncynical kid. Because under the humorand the whimsy of 500 Days of Summer, there's a fundamental truth at play:yes, love can be cruel, harsh and difficult but it's by far, the best thinglife has to offer."
Playingvery soon this October in Metro Manila theaters,
500 Days of Summer
is from 20thCentury Fox to be distributed by Warner Bros.