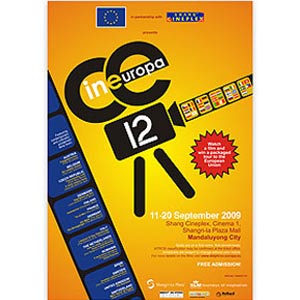 ---
Now on it's 12th year of offering powerful and touching European filmsto the Philippines, the popular film festival opens on September 10,2009, with public screenings from September 11 to 20 at the ShangCineplex, Shangri-La Plaza, Mandaluyong City.

Cine Europa 12 will be opened by Ambassador Alistair MacDonald, Head ofDelegation of the European Commission to the Philippines, Mr. AlvaroTrejo, deputy head of Mission of Spain representing the Presidency ofthe European Union, Atty. Andy Bautista, chairman and CEO of Shangri-LaPlaza Corporation and Ms. Lala Fojas, executive vice-president and general manager of Shangri-La Plaza Corporation.

Through a collaboration between the Goethe Institut in Manila and theEU Cultural Group and Shangri-La Plaza, the festival will also befeaturing a panel discussion animated by German film experts EberhardJunkersdorf, Dennis Gansel and Dr. Peter Zimmermann at the ShangCineplex's Premiere Theatre on September 11 from 10:30 to 11:30 am.

This year, eighteen European films―from Austria, Belgium,Czech Republic, Denmark, Finland, France, Germany, Italy, TheNetherlands, Romania, Spain, Sweden, Switzerland and the UnitedKingdom― were carefully handpicked to cater to Filipinoaudiences. Opening the festival is Swedish film Grabeen I GravenBredvid (The Guy in the Grave Next Door) by Kjell Sundvall, acontemporary romance between a farmer and a city girl.

Germany's Dennis Gansel tackles the underpinnings of fascism via theenergetic and gripping drama Die Welle (The Wave). Four teenaged boyslose their innocence during what is to be their last summer together inthe Belgian film De Laatste Zomer (The Last Summer) by Joost Wynant.From France comes the Julie Lopes Curval-directed Toi Et Moi (You andMe), a story of two sisters striving to find true love.

Jan Sverak brings to the silver screen the tale of 3 lives caught inthe middle of war via the Czech Republic's Tmavomodry Svet (Dark BlueWorld). Life is not lived in fantasies and exotic dreams, in Danishdirector Ole Bomedal's film Kaerlighed Pa Film (Just Another LoveStory) wherein the truth catches up with everyone eventually. Finland'sJoulutarina (Christmas Story) by Juha Wuolijoki is the touching tale ofhow Santa came to be. Four young rascals wreak havoc in 1960s Berne,Switzerland in Michael Stenier's Mein Name Ist Eugen (Rascals on theRoad).

The U.K.'s Saul Dibb presents a compelling portrayal of England's `ItGirl' in The Duchess. Jaume Balaguero and Paco Plaza offer a Spanishsuspense-thriller in Rec. An old prince unwittingly influencesthe lives of local people in Romania's Orient Express by SergiuNicolaescu. On the trail of a rare butterfly, the Zoo Rangers saves therainforest from destruction in the Johan Nijenhuis-directed Zoop InZuid Amerika (Zoo Rangers In South America) from The Netherlands.

Italy's I Demoni Di San Pietroburgo (The Demons of St. Petersburg) byGiuliano Montaldo is the story of writer Fyodor Dostoevsky and hissearch for the terrorist group responsible for the assassination of theImperial Family. From Austria comes Freigesprochen (Free to Leave) byPeter Payer about the short moments that can change lives forever.Bernd Sahling's Die Blindganger (The Blind Flyers) follows theadventures of a group of blind musicians. E Pericoloso Sporgersi(Sundays On Leave) by Nae Caranfil is interestingly set in the lateCeausescu era of Romania. Love is like Santa, you have to believe in itin Joram Lunsen's film Alles Is Liefde (Love is All) which shows thatlove indeed conquers all. Another tale about love, Hynek Bocan's SCerty Nejsou Zerty (Give the Devil His Due) follows the story of Peter,a brave but poor young man who gets involved in a love triangle withtwo princesses.

Admission to Cine Europa 12 isfree on a first-come, first-served basis.

For film screening schedules and other inquiries, please contact 633-7851.

After the screening in Shangri-La Plaza Mandaluyong, the films will be screened at Liceo de Cagayan De Oro from October 2 to 4 and Ayala Center Cebu from October 9 to 11.

ADVERTISEMENT - CONTINUE READING BELOW
The Cinema Europa Manila schedule and synopses of the films can be found HERE .