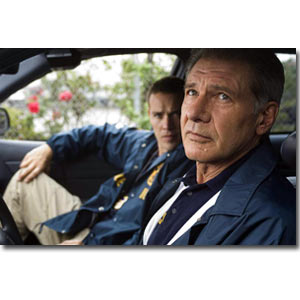 ---
Immigrantsfrom around the world enter Los Angeles every day, with hopeful visionsof a better life, but little notion of what that life may cost. Theirdesperate scenarios test the humanity of immigration enforcementofficers. In The Weinstein Company's new searing drama Crossing Over,writer-director Wayne Kramer explores the allure of the American Dream,and the reality that immigrants find—and create—in 21st centuryL.A.
Thecritically applauded film will be shown exclusively at Ayala MallsCinemas (Trinoma, Glorietta 4, Greenbelt 3) starting this Wednesday, September 16.
Kramer'sintersecting stories, both cathartic and tragic, are brought to life byan international ensemble. The film stars Harrison Ford (Firewall),Ray Liotta (Good Fellas) Ashley Judd (Double Jeopardy), CliffCurtis (Die Hard 4.0), Jim Sturgess (21) and Alice Braga (City ofGod).
FrankMarshall (Seabiscuit) is producing Crossing Over for The WeinsteinCompany. Michael Beugg (Little Miss Sunshine) is executive producerand Gregg Taylor (Austin Powers in Goldmember) co-producer.
"TheU.S. offers hope—but that often comes at a price. Many can earncitizenship legally through a lengthy bureaucratic process, but othersfind themselves out of luck in a country where virtually anything canbe bought," explains Kramer. "Sex, violence and betrayal become theircurrency. Some wait in line for permission to enter the U.S. whileothers take matters into their own hands."
Inthe film, L.A. Immigration and Customs Enforcement (ICE) officer MaxBrogan (Ford) is an agent sworn to protect America 's borders, dealingwith the thousands that try to cross over into the U.S. in search of abetter life. The lives of Brogan, his ICE partner, Hamid Baraheri(Curtis), immigration defense attorney, Denise Frankel (Judd), and herhusband, Cole Frankel (Liotta), intersect, by necessity, accident orfate, with Mexican factory worker Mireya Sanchez (Braga); Hamid'ssister Zahra (Melody Khazae); young Bangladeshi Taslima Jahangir(Summer Bishil); British musician Gavin Kossef (Sturgess); Australianactress Claire Shepard (Alice Eve); and Korean teen Yong Kim (JustinChon).
Eachhas a different struggle: a single mother deported without her child; ahigh school girl whose provocative essay draws FBI attention; anactress who willingly prostitutes herself to earn her green card; astruggling musician trying to build a career while working his day job;and finally, a Korean teen caught between two worlds while his familyis desperate to naturalize.
ADVERTISEMENT - CONTINUE READING BELOW
In his reviewin The New York Observer, veteran critic Rex Reed praises CrossingOver:
"Wayne Kramer threads the pieces together, makingvalid points about the tragedies and triumphs of the U.S. immigrationagencies that tie up the lives of desperate people in a never-endingtangle of red tape. And he gets uniformly terrific performances from afine cast playing pawns in the game of sex, violence and betrayal thatdiminishes the noble tradition of naturalized citizenship."