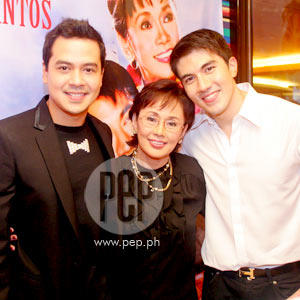 ---
The commotion during thepremiere night of the new Vilma Santos-starrer In MyLife at the Trinoma Mall last week was fierce! We were crushed by thecrowd and roughed up by the security who would not let us into the photoopportunity at the red carpet. After that ordeal, we could only hope the movieis worth it. And thank God it's that good!

Veteran director Olivia Lamasanand screenwriters Raymond Lee and Senedy Que brings us a gem in Philippine drama: less tears but an absolutetearjerker; close to real life but richly plotted and unpredictable.

VilmaSantos plays the roleof Shierly Templo, a sourly librarian suffering from emptynest syndrome, with her daughter Dang (Dimples Romana) planning to moveto Australia with her family, and her estranged gay son Mark (Luis Manzano) living in New York.After a fight with Dang, she decides to visit Mark, only to be surprised thathe is already living with another man named Noel (JohnLloyd Cruz), an illegal immigrant.

In an attempt to win Shirley'sapproval and affection, Noel patiently chaperones her around the city andattends to her needs. After spending more time with her son's lover, Shirleyrealizes that she has become emotionally distant from her son and soon becomesjealous of Noel who seems to know Mark better now than her.


This gap deepenedwhen Mark, despite Noel's coaxing, refused to tell his mother about his seriousmedical condition. As he is recovering from his illness, Shirley attempts torepair their relationship and the history of their mother and son relationshipunfolds. But a dark cloud looms over them all and things will never be the sameagain.

For its exceptional castingalone, In My Life is amazing. Vilma aside, my heart goes out to John Lloyd, that rare dramatic actor who can make youcry just by seeing his eyes well up with tears. He portrays a lover quietlysuffering Shirley's tantrums with restraint and grace, but at the same time, hemakes it heartfelt and sincere.
ADVERTISEMENT - CONTINUE READING BELOW

I was surprised by John Lloyd and Luis' screen dynamic as a gay couple.They call each other as Babe, display very romantic photos in their apartment and as the movie ends, they share a tender kiss on Brooklyn Bridge. Onscreen, their love is sweet, hushed and terribly romantic; even moreeffective and memorable than most hetero screen pairings.


As for JLC and Luis being typecastin gay roles or catching social stigma, I haveserious doubts about that, for onscreen, they are still as masculine andvirile.

As for Vilma, she portrayed amulti-dimensional mother who learns to get off her high horse and deal withdisplaced motherly pride. Later in the movie, Shirley realizes that that evenif she's done everything for her children, she failed to know them as persons. Unlike other mother roles she has done in the past, the Star for All Seasons depicts a flawed mother who eventually finds peace with herself and her past mistakes.

Not to be missed isShirley and Noel's confrontation wherein the traditional sampalan wasreinvented and Noel throws in the lines: "Anak mo lang siya, hindi mo siyapag-aari. Kung ano ang naging siya, dahil 'yon samga taong pumaligid sa kanya, at isa ka langdoon."


Another highlight of the movie is the dance sequence of Luis with his mother. Currently the Governor of Batangas, Ate Vi has been very vocal in saying that she is passionate about dancing and apparently her son inherited this love as well.


The audience is also treated tothe amazing sights and landmarks of New York City.With Mark, Shirley, and Noel, the audience experiences a slice of middle classlife in the city that never sleeps. In My Life also has witty one-liners andrefreshing comic relief in between dramatic moments, effectively delivered by Vice Ganda. We wish he had more exposure in the film.
ADVERTISEMENT - CONTINUE READING BELOW

The movie also stars Nikki Valdez, Rafael Rosell,and Tirso Cruz III in supportingroles.

In My Life
is for proud mothers who need extra love andunhappy children yearning for understanding.