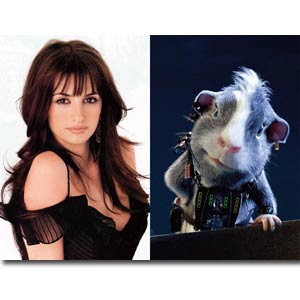 ---
Oscar®winner Penelope Cruz (Vicky Christina Barcelona) provides the voiceof sexy martial arts pro Juarez in Walt Disney Pictures' new comedyadventure G-Force.

"Juarez is a knockout you can't knock out," laughs director Hoyt H. Yeatman, Jr. about the character.

Thedirector says Cruz was the perfect voice for Juarez. "Penelope Cruz isan amazing actress. I think this is the first time that she's ever donean animated character, but she brought a lot to the role. She has abeautiful, velvety voice, which is just amazing. It was great workingwith her."

G-Forcetells of the latest evolution of a covert government program to trainanimals to work in espionage. Armed with the latest high-tech spyequipment, these highly trained guinea pigs discover that the fate ofthe world is in their paws.

Tappedfor the G-Force are guinea pigs Darwin (voice of Sam Rockwell), thesquad leader determined to succeed at all costs; Blaster (voice ofTracy Morgan), an outrageous weapons expert with tons of attitude and alove for all things extreme; and Juarez, a sexy martial arts pro; plusthe literal fly-on-the-wall reconnaissance expert, Mooch, and astar-nosed mole, Speckles (voice of Nicolas Cage), the computer andinformation specialist.

PenelopeCruz has proven herself to be one of the most versatile young actressesby playing a variety of compelling characters and most recentlybecoming the first actress from Spain to be nominated for and win anAcademy Award, for Woody Allen's Vicky Christina Barcelona.

Firstintroduced to American audiences in the Spanish films Jamon, Jamonand Belle Epoque, in 1998 she starred in her first English languagefilm, The Hi-Lo Country for director Stephen Frears opposite WoodyHarrelson, Patricia Arquette and Billy Crudup. In 1999, Cruz won theBest Actress award at the 13th annual Goya Awards given by the SpanishAcademy of Motion Picture Arts and Sciences for her role in FernandoTrueba's The Girl of Your Dreams.

Confirmingher status as Spain's hottest international actress, Cruz landed aseries of coveted roles. She appeared in Billy Bob Thornton's All thePretty Horses, Fina Torres' Woman on Top, Alejandro Amenabar's OpenYour Eyes, Maria Ripoli's Twice Upon a Yesterday and Nick Hamm's Talk of Angels. Additionally, Cruz co-starred in Pedro Almodovar's Live Flesh and his critically acclaimed All About My Mother, whichwas awarded the Golden Globe® and Oscar® for Best Foreign Film.
ADVERTISEMENT - CONTINUE READING BELOW

In2006, Cruz starred in Volver, which again teamed her with directorPedro Almodovar. Critically acclaimed for her role as Raimunda, she wonthe Best Actress awards at the European Film Awards, the Spanish GoyaAwards and the Cannes Film Festival and received both Golden Globe® andOscar® nominations.

Opening soon across the Philippines, G-Force is distributed by Walt Disney Studios Motion Pictures International.