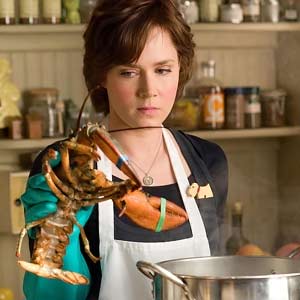 ---
In2002, Julie Powell took on a year-long culinary quest: cook all 524recipes in Julia Child's book Mastering the Art of French Cooking. She chronicled her trials and tribulations in a blog that caught onwith the food crowd. Now, her kitchen adventure isbrought to the screen in Columbia Pictures' comedy Julie & Julia with no less than Oscar-nominee Amy Adams (Doubt, Enchanted)playing the character.
Director Nora Ephron wanted an actress who could embody a young woman's insecurities and emotional blow-ups. She knew Adams was up to the task, but she also met another major requirement for the writer/director.
"Amongthe many things I liked about her was that I believed that she wassmart enough to be a writer," says Ephron. "And she's funny."
Adamsfound plenty in the character of Julie Powell that spoke to her. "It'sright after 9/11, she's turning thirty, and she's confused in herlife," Adams explains. "She's really come to a crossroads, and she'strying to make decisions. That was something I was very familiar with,and I don't think it's reflected very often in films in an honest way.For a more modern woman, there are some very all-encompassingquestions, and I thought this character really embodied that journeyand that confusion."
NewYorker Julie Powell was nearing 30, dissatisfied as a writer, andfacing an emotionally depleting day job working for an organizationdevoted to rebuilding the World Trade Center site after 9/11 andhelping displaced residents resettle. Spurred to changeher life, she decided to cook her way through Julia Child's masterpiece—524 recipes in 365 days—and chronicle her efforts in a blog. Withthe encouragement of her husband Eric—who was happy to devour thefruits of her labors—Julie began detailing the ups and downs of hertime-consuming project.
Today, blogging is part of the fabric of our lives, but in 2002, Powell was a blogging pioneer. ProducerLaurence Mark says, "I think at the outset of this endeavor, Julie maynot have realized just how ambitious it actually was. But since she was clearly getting a kick out of it, and the results were so delicious, it all became somewhat more manageable."
ADVERTISEMENT - CONTINUE READING BELOW
Powell'swritings became so popular that, like Child, she got her own culinaryadventure published: Julie & Julia: My Year of CookingDangerously was released by Little, Brown in 2005. Butbefore Powell even had a book deal, producer Eric Steel had takennotice of her, including in a New York Times profile written by foodwriter Amanda Hesser. "Julie was really one of the first bloggers tosort of break out of the tiny orbit that some of these people live in,"Steel explains. "She had a real audience. By the time I found her, shehad thousands of people reading her blog every day."
"WhenI started, I never expected that I'd have a book, or that book would beoptioned, or that Nora Ephron would become attached to write and directthe movie, or that Meryl Streep and Amy Adams would be in it," saysJulie Powell. "They've made a beautiful movie, a movie about marriage, and being brave, and creating yourself. This has all been an amazing experience."
Openingsoon across the Philippines,
Julie & Julia
is distributed byColumbia Pictures, local office of Sony Pictures ReleasingInternational.