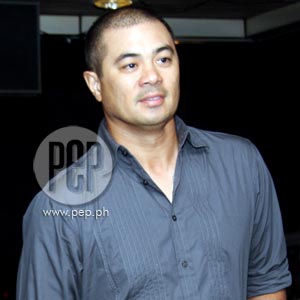 ---
After being victimized by a local movie producer who failed to pay his services for an independently-produced movie, Monsour Del Rosario is making another digital indie film titled Watawat (Flag). This is a historical drama about the making of the official Philippine flag, the three-colored banner (blue, red and yellow) that symbolizes our nation's independence.


"Napirmahan ko na 'yung contract. Maliit lang ang bayad, pero historical movie kasi, mapapanood ng mga nasa grade school at high school for their history classes," he informs PEP (Philippine Entertainment Portal). Monsour added: "It depicts the last years of the Philippine revolution, from the time the current Philippine flag was conceived; or sewn through completion. So who was responsible? This film narrative gives the answer to the students, kaya maganda."


Playing a pivotal role is dramatic actress, Chin-Chin Gutierrez, who will portray Marcela Agoncillo. Her character is touted as the principal seamstress, making her the Mother of the Philippine Flag.Actors Carlos Morales and James Blanco play the roles of Emilio Aguinaldo and Andres Bonifacio, respectively.


Watawat is conceived and written by new indie filmmakers Deo Divinagracia and Dave Cecilio.


BRAINS OF THE REVOLUTION. For his part, Monsour was given the role of Apolinario Mabini, the "brains of the revolution" who wrote the Constitution of the First Philippine Republic of 1899-1901.


Also referred to as "the Sublime Paralytic," the revolutionary hero and philosopher, in history book accounts, was said to have had enemies who spoke behind his back and referred to him as the "Dark Chamber of the President."


Even then, the notion of political intrigue as happening at present, existed. Definitely a non-action movie, without any martial arts scene for the taekwondo expert, Watawat could be an acting vehicle for Monsour.


Is he ready for the challenge? Monsour admits being at first reluctant to do the project. "Walang action [scenes], hahanap-hanapin ng tao sa akin 'yon," he reasons.


He revealed that the debuting filmmaker himself was able to convince him. "At least, the people will see that I accept projects even without martial arts action scenes," notes Monsour, who, too, wants some kind of growth, as an actor. With eagerness, he says, half-jokingly, "I asked my new director, 'how did you dig me up from the grave?' Tumatahimik na ang buhay ko, gusto n'yo pa rin akong mag-shooting."


Monsour further recalls, the director was hesitant to offer him the role, saying, "Ewan ko lang, Sir, kung tatanggapin n'yo. Walang action ito, nasa wheelchair lang kayo, kasi lumpo kayo: si Apolinario Mabini."


He was given the script and when he finished reading, Monsour readily agreed. "Sabi ko, gagawin ko 'to!" Watawat is slated for a November 2009 release, with a minimum of five days shoot beginning October 5 in Kawit, Cavite. This area was where the Philippine national anthem ("Lupang Hinirang") was first sung and the official Philippine watawat or flag was first waved. The flag was used during the inauguration rites of Emilio Aguinaldo on June 12, 1898.


LIVING FROM THE HEART. Meanwhile, Monsour is one of the featured celebrities in the book, Living From The Heart (by writer-photographer Marsha Ledesma), which was launched last September 23 at the Manila Peninsula Hotel.


The other celebrities and icons featured in the book are: democracy icon and former President Corazon Aquino; musician Ryan Cayabyab, singer Charice; actor/singer Lea Salonga, broadcast journalist Julius Babao; journalist and network executive Jessica Soho; host-model, Marc Nelson, Senator Kiko Pangilinan, talk show host Boy Abunda, prima ballerina Lisa Macuja, preacher Bo Sanchez, lawyer Katrina Legarda, homeschool mom Liza Berroya, social entrepreneur Illac Diaz, author Alex Lacson, chef Margarita Fores; painter Malang; social worker Tony Meloto and humanitarian advocate, Dr. Fe Del Mundo. Representing Philippine sports, Monsour's claim to fame, as martial artist-taekwondo champion in the '80s is really "one for the books."


Monsour's achievements in this martial arts are as follows: 1985 World Taekwondo Championships, bronze medallist; 1986 Asian Games, silver medallist; 1987 Southeast Asian Games, gold medalist; and a lone representative from the Philippines (taekwondo event) in the 1988 Olympic games, in Seoul, South Korea).


For having been chosen to represent Philippine sports in the inspirational book, Monsour gave this message: "I'm so honored dahil mamatay man ako, at least, alam ko magiging proud ang pamilya ko. Ang mga anak ko [three-year old Matthew Lorenzo and one-year old Isabella Dominique, with wife, Joy Zapanta Del Rosario], they will grow up and know about me from what they'll be reading.


"Also, through this, I'm letting the youth and the nation know that dreams do come true, if you work hard for it. Hopefully, it would inspire the youth, motivate them, and let them chase their dreams.


"As the only martial artist-athlete in the combat sports, it imparts this message to the youth who may later on want to achieve certain things, whether in my field or in another field. It would be nice that they do achieve their dreams, and in turn inspire the next generations, and do something great for people to remember them by. It's a great contribution to the country and to its people. Actually, 'yung story ng buhay ko, it's also for a lot of kids who come from broken home, na feeling nila, porke wasak na 'yung pamilya nila, tapos na 'yung buhay nila..."


Moving on to other topics, Monsour mentioned that he's currently busy with a lot of sports activities: basketball tournaments with all-star team in different provinces; playing golf and training in taekwondo, while managing his own taekwondo training center, the Olympians Taekwondo Training Center (OTTC), with gym and offices in Fort Bonifacio Global City.


A local celebrity golf tournament/competition, dubbed the Dolphy Cup, is scheduled to commence later this year. Behind its inception is Dolphy's actor-comedian son, Epy Quizon who is supported in this undertaking by golf enthusiasts such as Monsour.


It will be recalled that Monsour first penetrated showbiz through the Dolphy-starrer, EntengThe Dragon (1988). Through this golf tournament, Monsour welcomes the chance to be reunited with the Comedy King.


ADVERTISEMENT - CONTINUE READING BELOW