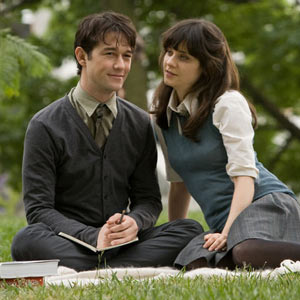 ---
Theoffbeat romantic comedy 500 Days of Summer stars Joseph Gordon-Levitt and Zooey Deschanel ina love story seen straight from the love-addled, mood-clouded mind of TomHansen (Gordon-Levitt). This postmodern love story was one of the entries in the 2009 Sundance Film Festival held earlier this year.

Tom, awould-be architect who works as a writer of pithy romantic sayings for othersyet can't seem to communicate the overpowering depth of his own feelings to theonly woman who matters to him: theelusive Summer (Deschanel).

Set withinthe scenic parts of downtown L.A., Levitt shares his 500 Days of Summer inthe following Q&A:

Q: How would you describe the plot of thefilm?
A: "I liked that the story was written bytwo guys and is directed by a guy and they were all completely unapologeticabout the idea that this story is from our perspective, it doesn't pretend tobe an objective point of view. Theentire story is completely subjective from Tom's internal experience and itilluminates his experience of love. Love isn't rational or logical or linear—and the film completelyreflects that."

Q: What is it in Tom's character that gotyou involved in the film?
A: "I think Tom always thought love waslike what he saw in the movies or heard in pop songs. He has a lot of preconceived notions of what love should be,instead of really living in the present tense and paying attention to what'sactually happening between him and Summer...which he only sees later."

Q: Have you been heartbroken before?
A: "I've had my heart broken before,truly, truly, truly broken. But when I look back at me in my broken-heartedphase it's pretty hilarious, because it feels so much more extreme than itreally is."

Q: What is it in the movie that theaudience can look forward to?
A: "One of the things I love about 500 Days of Summer is that it doesn't make light of what we go through in romancesbut it is honest about it and shows it for what it is, which is oftenprofoundly funny."
ADVERTISEMENT - CONTINUE READING BELOW

DirectorMarc Webb enthusiastically chose Levitt for the role since his role as Tom isthe film's entire foundation where all the rest of the characters are viewedthrough.
"Joe [Gordon-Levitt] is so veryintelligent and he understood every line of this story and of Tom's entireemotional arc," says Webb. "At the sametime, he was very inquisitive, asking a lot of great questions. It's easy toforget that Joe started his career on a sitcom, but he also has a very solidbasis in the craft of comedy that he brings to Tom. He has an almost scientific approach toplaying the straight man—he finds ways to be very funny while still bringinggenuine emotion to every scene."
Recentlyseen opposite Dennis Quaid and Channing Tatum in the action-packed G.I. Joeas Commander Cobra, Joseph Gordon-Levitt, the young but already remarkablydiverse actor has distinguished himself over the last few years asuncategorizable and fascinating to watch in such films as Stop-Loss, Killshot, Miracle at St. Anna, Uncertainty, The Lookout and Manic.

He was named as one of the BestPerformances of the Year (2005) by the New York Times in thecritically-acclaimed drama by Gregg Araki opposite Matthew Goode and IslaFisher. He also starred in a string ofhits, including 10 Things I Hate About You with Heath Ledger and JuliaStiles; Halloween H20 with Jamie LeeCurtis; the animated film Treasure Planet; the hit family comedy Angels inthe Outfield with Danny Glover; and The Juror with Demi Moore and AlecBaldwin. His performance in Robert Redford's ARiver Runs Through It earned him a Young Artist Award for"Best Actor Under Ten."

Prior to attending ColumbiaUniversity, he starred on the award-winning NBC comedy 3rd Rock from the Sun for which he received two Hollywood Reporter "Young Star Awards" and threeScreen Actors Guild Award® nominations for "Outstanding Performance by anEnsemble in a Comedy Series."

Gordon-Levitt made his directorialdebut with the short film Sparks, starring Carla Gugino and Eric Stoltz,which was accepted in the 2009 Sundance Film Festival ShortsCompetition.
ADVERTISEMENT - CONTINUE READING BELOW

500 Days of Summer opens October21 in theaters from 20th Century Fox, distributed by WarnerBros.