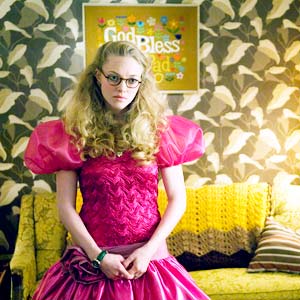 ---
Amanda Seyfried portrays a weak-willed teenager named Needy in the wicked and sexy teen comedy Jennifer's Body. She recently gained fame as Meryl Streep's daughter in the movie musical hit Mamma Mia.

In the movie, Seyfried takes on the role of Needy—the self-effacing, unglamorous and intellectual with blonde hair and glasses. Despite their differences, Needy and Jennifer (Megan Fox) were best friends since they were toddlers. Needy has always been dominated by her best friend Jennifer.

Arrogant and vain, the gorgeous Jennifer spent her childhood and teens bossing around her friend Needy. But their friendship is about to change after a highly-disturbing event following the night where an up-and-coming rock band performed in their local town bar. For as long as she can remember, Needy has been living in Jennifer's shadow but now things have changed. On discovering the dark and terrible truth about her friend, she has a daunting challenge ahead.

Jennifer's Body takes on an unusual plot where totally wicked and disturbing revelations unfold between best friends whose friendship undergoes a dramatic transformation.

20th Century Fox provides this Q&A with Amanda and her take on the movie and her journey being an actress:

Q: What did you like about the script?
A: "I was so excited when I read Diablo Cody's script because it was solid and different. Her dialogue is so unusual, with her own brand of slang that is very descriptive and creative. She has effectively patented her own kind of slang. It is completely unique."

Q: Her name, Needy, sums up her personality in a way doesn't it?
A: "Absolutely. She is unsure of herself and does not think she has any sex appeal, unlike Jennifer who is sexy and beautiful. Jennifer has the boys, she has the looks and she has the popularity. Needy is insecure about her realtionship and Jennifer is ultimately afraid of losing the friendship."

Q: Can you identify with Needy at all?
A: "I was actually like her in a lot of ways. I hung out with the popular girls at school [in Pennsylvania] but I was never actually one of them. It was too scary for me to be in the limelight and it was nice to hide behind those girls. Needy is smart and she's not afraid to be who she is, which is lovely."

Q: What would you say audiences can look forward to?
A: "I think people will enjoy the complexity of the story and see something more interesting than they expect. This film is unique. I think boys will respect girls. And girls will feel really positive. I think women will walk out of the theater and feel, 'YEAH.' It is an incredible movie for women to see. It's real, dramatic, hilarious and frightening."

Q: Your last film was the colossal hit Mamma Mia! How did that change your life?
A: "Well, it was amazing. It made me marketable; people became more familiar with my work. It is really wonderful and gratifying getting all their dedications and fan letters. Of course I am much more recognizable now and I am getting many opportunities that I definitely would not have had without Mamma Mia! People in the business have quite a lot of respect for me because I worked with Meryl Streep on the film. There are so many aspects of my life and career that have changed tenfold."

Q: Have you learned a great deal during the past few years from these older, talented actresses?
A: "I learned so much from Meryl Streep. She's wonderful and so good at separating her life from her work and she's incredibly focused. I'm learning from many extraordinary women who are treating me like gold. I also worked with Julianne Moore whom another film that I made recently. I feel that by working with these women, I've gone up a notch myself. I'm moving in the right direction in my career. They are the best and I am so lucky."

Q: How exciting is life for you right now?
A: "It is amazing and I have to remind myself of that when I'm doing a difficult scene, for example a scene I did recently when I was really hot, wearing aluminum foil under hot football field lights in a tiny church. But really, life is great. Also, it is fantastic to include my family in my experiences. My grandmother is 88 so it is great for her to enjoy my career. My family has been visiting me in Italy and they are so proud so I don't want to complain about anything."

Q: What are your goals?
A: "I really want to learn languages: French, Italian and Japanese and maybe others too—and at some point in the future, I want to have babies. And I want to continue acting of course. So those are my goals: acting, babies and languages. (laughs)"

Only 23, Amanda Seyfried has proven herself to be one of Hollywood's most accomplished actresses. Apart from the enormously hit Mamma Mia! she also appeared in Nine Lives and Mean Girls. She is currently starring in the TV show Big Love. Her next films include Chloe, Dear John and Letters To Juliet.

Jennifer's Body opens October 28 in theaters from 20th Century Fox to be distributed by Warner Bros.


ADVERTISEMENT - CONTINUE READING BELOW