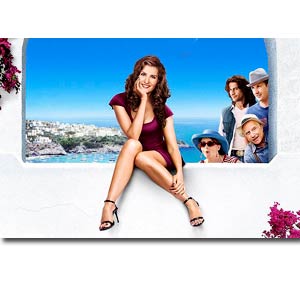 ---
From Nia Vardalos, writer and star of My Big Fat Greek Wedding, comes Fox Searchlight's hilarious comedy My Life in Ruins. The endearing romantic film will be shown soon exclusively at Ayala Malls Cinemas (Glorietta 4 and Greenbelt 3) starting October 14.

In My Life in Ruins, Georgia (Vardalos) has lost her kefi (Greek for "mojo"). Discouraged by her lack of direction in life, she works as a travel guide, leading a rag-tag group of tourists as she tries to show them the beauty of her native Greece. While opening their eyes to an exotic foreign land, she too begins to see things in new ways the process.

When Nia Vardalos read Mike Reiss' script for My Life in Ruins, she was instantly captivated. It wasn't simply the chance to shoot a film in Greece , although that was certainly a plus for the Greek-American actress, Vardalos fell hard for the character of Georgia. "What I added to the character was that she was so controlling and she had to learn to let go. I've always been told work hard and anything you want can be achieved. That actually turns out not to be that true, though. Sometimes you just have to let go and laugh—or dance!"

Although her character has what many would consider a dream job, Vardalos observes, "She's not letting the magic of it enter her soul because she chooses to bring the disappointment in her life with her. She has to change her outlook. And it's not just Georgia; it happens to all the characters."

Vardalos, who received an Academy Award® nomination for her first screenplay, My Big Fat Greek Wedding, put her unique comic spin on Georgia. "The idea is that when you take yourself out of your comfort zone, life is magical," says Vardalos.

"If a script makes me laugh out loud when I'm reading it, that's a movie I want to make," director Donald Petrie says. "This made me laugh out loud. We spent some time refining the arc of the character, so that Georgia's evolution over one five-day experience is really clear."

In Petrie's eyes, Georgia has lost her passion for her work because she sees the tourists she deals with as stereotypes, not individuals. "Her 'tour group from hell' only seems that way because she's not doing her job the way she should be doing it," he says. "She thinks everyone should have the same burning desire for the history of Greece that she does, and when they don't meet her expectations, she dismisses them. Over the course of the film, the tour group helps her find her kefi again by helping her recognize that it is okay to be different and that these are living, breathing, wonderful people."


ADVERTISEMENT - CONTINUE READING BELOW