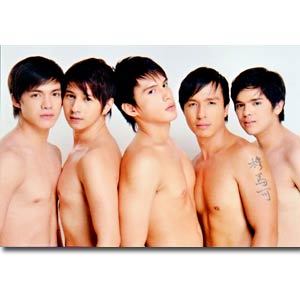 ---
Five men bound for Japan struggle with their personalproblems but will they ever get the chance to perform in the Land of the RisingSun? Watch Marco Morales, Mhyco Aquino, Miggy Valdez, Sherwin Ordoñez, andJay-L Dizon play the part of hip hop dancers in the upcoming indie film I ♥Dreamguyz (I Love Dreamguyz).


The film will be megged by Joel Lamangan, the same director behind Dukot (Desaparecidos)and Heavenly Touch. This is the third film produced by DMV Entertainment.


One of the Dreamguyz is Jay-L Dizon, who was part of the Top 16 in StarStruckSeason 3. He is also a mainstay in TV5's comedy show Ogags. Viewersshould look forward to his dramatic scene with his mother (portrayed byfilm/stage actress Mailes Kanapi). "Doon niya kami mas lalong pinahanga," saysDirek Manny Valera. "Pati mga kasama namin sa staff, namumugto ang mga mata atpagkatapos i-shoot ang mga eksenang iyon ni Jay-L. After that, we were all inagreement na may mararating ang batang ito."


I ♥ Dreamguyz will be screened in Metro Manila and other key citiesnationwide starting November 4, 2009.
SYNOPSIS. Five young men land contracts asentertainers in Japan and form a new hip-hop dance group called Dreamguyz.Guided by their gay manager Didi (Jao Mapa), they spend the next few monthsbefore their trip bonding as friends who share a common dream of findinggreener pastures in the Land of the Rising Sun.
Michael worked as a dancer in Japan when he was still aminor, using a fictitious name and a forged passport. He makes sure hisrecruiter doesn't find out he's not a first-timer to Japan like the rest of theguys. Benjo seeks to escape a cruel stepfather and find his missing olderbrother, a musician turned illegal alien in Japan. Alvin is Didi's lover, whoopenly expresses his affections for his benefactor while hoping to make his ownmoney in Japan.
ADVERTISEMENT - CONTINUE READING BELOW
The two members who share choreographic duties, Jake andRico, quickly develop a secret romance. Problem is, Jake lives with his devotedgirlfriend Jenny (Niña Jose), who supports him financially. On top of hisdilemma, Jake is soon discovered to have a heart ailment, jeopardizing hischances of joining the group's trip to Japan.
As a former Japayuki himself, Didi knows a stint in Japanhardly guarantees a financial windfall for the group. So he enlists the membersin a networking company that has been giving him ample dividends.Unfortunately, the company collapses without warning. It ruins Didi andthreatens to dissolve not just his relationship with Alvin but the groupitself. Violence erupts on the eve of their trip, which could shatter thedreams of the Dreamguyz.