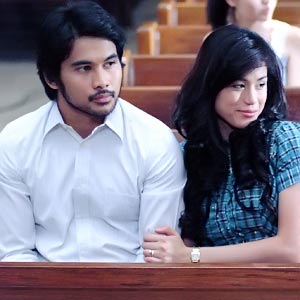 ---
In contrast to the dark-themed movies revolving around thedecomposition of the mores of man and the disintegration of Filipino families,the Jubilee Evangelical Church and Jubilee Youth for Christ venture into filmto give us a family drama that sees life through rose-tinted glasses.


Directed by Paul Soriano, A Journey Home has its story grounded onreality with its ideals soaring to high grounds. With central themes offorgiveness and solidarity of the family, the film is optimistic about man'sability to make the right choices and change his life for the better.
The death of a loved one becomes the catalyst to reuniteDante (Soliman Cruz) with his son Raffy (Joem Bascon) and daughter Kristine(Athena Tibi). Dante sees his family for the first time in 20 years afterleaving them for another woman. Raffy, still scarred by the past, does not wantto be associated with his father despite the efforts of his wife Gayle (ToniGonzaga) to bring them closer. Meanwhile, Kristine is more accommodating to herdad's attempts to rebuild their broken relationship.
ADVERTISEMENT - CONTINUE READING BELOW
A sudden twist of fate brings Dante at the doorstep of Raffyand Gayle's home. This might be God's answer to Dante's prayers for a secondchance. Gayle helps Dante to get on the good side of Raffy, but the latter hascompletely shut his father out of his life. Dante soon develops a bond with hisgrandchildren Jake (John Manalo) and Tinka (Cha-Cha Canete). However, theimminent collapse of Raffy's business results to his emotional meltdown thatstrains his family gravely.
A Journey Home carries a message of hope. It upholdsmoral values and promotes the strengthening of family ties. More importantly,it shows us that forgiveness works both ways. As we forgive others, we do notonly help them free their conscience from emotional burden, we also helpourselves unload unnecessary baggage that subconsciously affects our lives.Many films will challenge its simplistic perspective towards filialrelationships and personal values. But for those who miss an old-fashionedfamily drama in the tradition of Tanging Yaman, the morality check thatthe film provides may prove to be enough.


The ensemble does a decent job in portraying the troubled family. Soliman Cruz lends enough humanity to his repentant character. He tries to pull off a few jokes for comic relief, but oftentimes miss the mark. Joem Bascon's performance as the angst-ridden son is largely overdone during the big moments. His acting works better during the quiet scenes where we see him slowly letting go off his guard but his inability to forgive gets in the way. Meanwhile, Toni Gonzaga shows off her versatility. Her forte may be hosting and doing comedies, but she can also do drama. She is convincing as the good-hearted wife who has nothing but love for her husband and family.
ADVERTISEMENT - CONTINUE READING BELOW
Despite the story's richness in moral values, A JourneyHome feels largely flat. Its primary shortcoming is the overused story. Itsadherence to clichéd plot devices brings us to a familiar melodramaticterritory where we know exactly what will happen next and how everything willeventually be resolved. Due to the film's predictability, we couldn't harnessenough empathy for the characters' conflicts.
The film is not bad per se. It is just ordinary. It exudesthe same vibe as Lenten episodes of Pinoy TV shows, which are generally wellintentioned.
A Journey Home
will be screened on
October 10
at the Alabang New Life Christian Center (2 Don Manolo Blvd, Alabang Hills Village, Muntinlupa City). It will also have a 7 p.m. screening at SM Megamall on
October 17
, 2009.
For inquiries regarding screenings, call Cherie Ong (Tel. No. 806-7172) or Andra Lee (Tel. No. 718-4460).

CLICK HERE to view photos during the premiere night of the film.