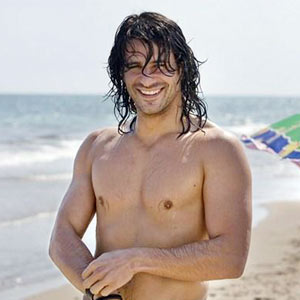 ---
Romancing Nia Vardalos in Fox Searchlight's hilarious comedy My Life in Ruinsis Greek superstar Alexis Georgoulis who plays tour-bus driver, Poupi.The sweepingly romantic film will be shown exclusively at Ayala MallsCinemas (Glorietta 4 and Greenbelt 3) starting October 14.

In My Life in Ruins, Georgia (Vardalos) has lost her kefi (Greekfor "mojo"). Discouraged by her lack of direction in life, she works asa travel guide, leading a rag-tag group of tourists as she tries toshow them the beauty of her native Greece. While opening their eyes toan exotic foreign land, she too begins to see things in new ways theprocess.

DirectorDonald Petrie was in pre-production in Los Angeles when he first sawthe audition tape of Alexis Georgoulis, a popular TV star in his nativeGreece. "Alexis just jumped off the screen," he remembers. "But he wasone of the first ones to read, so we said 'Yeah, he's really good, butwe've got to keep looking.' But he set the bar, and even though we musthave spent three months looking at other actors for this role, wefinally realized we weren't going to find anyone better than the firstguy through the door.
ADVERTISEMENT - CONTINUE READING BELOW

Oneof the selling points for Petrie was that Georgoulis was able to beoff-putting, even a little scary at first, before evolving into thehandsome leading man. But for Georgoulis, who's making his Americanfilm debut, the job required some adjustments. "It was exciting yetstressful at the same time," he says.

Itwas important to Vardalos that Poupi was a real person who the audiencewould relate to. "Alexis was as important to this movie as getting thepermits to shoot at the Acropolis," she says. "We masked this characterfor the first third of the movie. We took away an important actor'stool: his face. We needed a very experienced actor and a very deepperson to pull that off."

"Niatold me that when she saw me, she said, 'This is the character,'"Georgoulis says. "She said the character of Poupi represents the Greekway of thinking and living. I think if you came to Greece, you wouldagree."
ADVERTISEMENT - CONTINUE READING BELOW

"Part romantic comedy, part tale of self-discovery, part travelogue, My Life in Ruins is a journey many people will enjoy," says Petrie.

Thefilm is constructed much like a real guided tour through Greece.Consequently, much of the action is set on the tour bus or at theactual sites that travelers in Greece are likely to visit. Filmingduring the height of the tourist season posed a number of challenges."One time we were shooting in the middle of the Plaka, the main squareof Athens, kind of like Times Square," says Vardalos. "In the middle ofthe scene, I heard some people say, 'Hey it's that girl from My BigFat Greek Wedding. Then they walked right into the shot and kissed meon the cheeks."