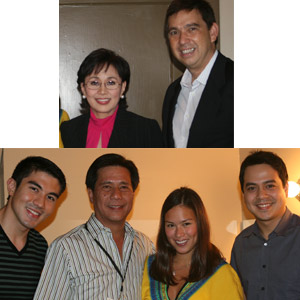 ---
The recent Los Angeles, San Francisco and New Jersey premieres ofIn My Life were box-office hits, drawing full-capacityattendance in all screenings and venues. This Star Cinema film is the much awaited comeback of the Star for All Seasons, multi-awarded actress and current Batangasprovince governor Vilma Santos.

Thousands of fans lined up at AlexTheatre in Glendale (Southern California), Fox Theatre in Redwood City(Northern California), and George W. Newman Theatre in Rutherford, NewJersey last September to watch the film and to see Gov. Santos, John LloydCruz, and Luis Manzano who graced all the premieres.

The last time fans caught VilmaSantos onscreen was in Mano Po 3: My Love in 2004.
"InMy Life offers you a different Vilma Santos, a different John LloydCruz and a different Luis Manzano," said the film's director, OliviaLamasan, who was behind the blockbusters Milan, Sana Maulit Muli,Got 2 Believe and Madrasta. "You have to see the genuine chemistryamong these three actors who are together for the first time in a movie. This is also a unique film because it presents a mother in her fifties,thinking that she's been through all and seen it all, when in actuality,a new chapter in her life is just beginning."

Even with the sterling success ofthe film, Gov. Santos and the stars were thinking of the victims oftyphoon Ondoy that devastated the Philippines. She asked for donationsfrom the moviegoers to help her province of Batangas in its rehabilitationand clean-up efforts. ABS-CBN International's Starry Starry Storedonated a dollar each for every premiere ticket sold in San Francisco andNew Jersey. Gov. Santos also sought donations during the premiereof In My Life in Canada.

"These sold-out premieres clearlydemonstrate that the Filipinos in the U.S. have fully embraced the returnof the best of Philippine cinema to the big screen," said Kerwin Du, ABS-CBNNorth America's head of theatricals. "They relish the experience of watchingquality films where they belong: the movie theater. They are enthusiasticabout seeing their favorite stars in person. For us in ABS-CBN, we aregratified to be able to give our kapamilya what they want whereverthey are: the best in Philippine entertainment."


In My Life is now on its regulartheatrical run in the following cities:


SAN DIEGO (October 2-15)
UA Horton Plaza
475 Horton Plaza
San Diego, CA 92101


JERSEY CITY (October 9-15)
AMC Loews Newport Center
30 Mall Drive West
Jersey City, NJ 07310


LOS ANGELES-CERRITOS (October 9-15)
Cerritos Stadium Cinema
12761 Towne Center Drive
Cerritos, CA 90701

For information on the abovementionedtheaters, please call 800.227.9676.


NEW YORK (October 20-22)
The ImaginAsian Theater
239 E 59th St
New York, NY 10022
212.417.0419


CHICAGO (October 23-29)
The Pickwick Theatre 1
17 South Prospect Avenue
Park Ridge, IL 60068
708.316.8780/847.863.2212


ADVERTISEMENT - CONTINUE READING BELOW