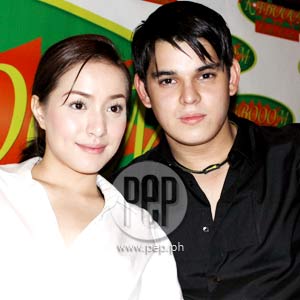 ---
Howdo you deal with three angry aswangs? Fight fire with fire—that's how. In thehorror film Patient X, the character of Richard Gutierrez will have todeal with the creatures through the help of another aswang, portrayed byCristine Reyes.

Patient X reunites director Yam Laranas with his Sigaw star Richard Gutierrez, whonot only stars in this horror film but also serves as the co-producer. Thisjoint project of GMA Films & Viva Films, in association with RgutzProductions, will open in cinemas starting October 28, in time for Halloween.

Heart Evangelista was supposed to bethe leading lady of this film but she had surgery for her appendix atthe time.

Yam made history as the first Filipino director to make a Hollywood film (Sigaw)and a National Geographic feature titled Asia's Titanic. Sigaw wasremade in Hollywood as The Echo, with Jesse Bradford reprising the roleof Richard. DVDs of The Echo will be available in the United States thisNovember.

What can Richard say about being afirst-time producer in this project? "I trust Direk Yam's work. At nakikita konaman yung hardwork na kino-commit niya sa project."

On his role as a doctor in this horror film, Richard says, "Exciting siya, exciting yung character. Challenging para sa 'kin yung part, sovery exciting."

Yam describes his film as a "creature feature" because of the presence of aswangs, the vampire-likecreatures in Filipino folk lore.
"Masaya kami na trailer pa lang, gumagawa nang buzz sa online community. From Los Angeles to New York to Brussels, excitedna sila. Ang usual comment nila'y 'unique scare.' Inaabangan na nila yung movie,"says the filmmaker.
ADVERTISEMENT - CONTINUE READING BELOW
"Tumawag na rin ang programming ng Screamfest,kaya lang, nasa gitna na ako ng discussion with a U.S. company, a releasingagent. Let's see kung ano ang mangyayari."
Yam says that
Patient X
has already been invited to the 2009 Screamfest,which will take place this October in LosAngeles. But they passed up the invitation since they are hoping that film willmake the cut in the Sundance Film Festival that will run from January 21 to January31, 2010.
Patient X
also stars Miriam Quiambao, TJ Trinidad, Che Ramos (who was last seen in the Cinemalaya entry
Mangatyanan
), Paolo Avelino, Dion Ignacio, and theater actor Nanding Josef. Richard's brothers,Rocky and Elvis Gutierrez, are also cast as aswangs along with Dion Ignacio.
SYNOPSIS.
Lukas Esguerra (Richard Gutierrez) is a city pediatric surgeonhaunted by the massacre of his family in the province when he was young. Lukaswitnessed his older brother and his parents murdered by men who tapped theirmaid Guada (Cristine Reyes) as an accomplice. Guada and her cohorts fled andwere never seen again.
Years later, one of the provincial cops visits Lukas and tells him that Guadawas recently captured. The young man goes back to the province to face hisfamily's killer.
He is stunned when he meets Guada again who has not aged a single day since helast saw her. Lukas soon finds out that Guada is an aswang who was capturedduring the massacre of another family. The victims were the wife and son of thetown's chief of police, Alfred (TJ Trinidad), who now wants toexact revenge for what happened.
That fateful night reconnects Lukas to his past. Guada attempts to shed lighton what happened 20 years ago, while Guada's three brothers, all aswangs,prepare to rescue their sister.
Trapped inside the hospital, Lukas has no choice but to trust Guada if he wantsto survive the rampage of the aswangs.