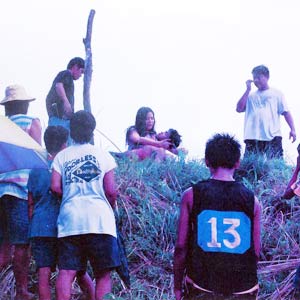 ---
Estasyon featuresthe long journey of a young boy who travels all the way from Laguna to attendthe Feast of the Black Nazarene. He is instructed to wipe a towel on the imageof the suffering Christ to heal his mother. Just like hundreds of devotees,Christian Galindo attempts to climb the Nazareno—will he succeed or will he becrushed by the multitude in Quiapo?

Find out when Estasyon opens in cinemas starting on November 4.

This marks the second time that Cesar Apolinario helms a film after hisdirectorial debut Banal earned him the Best Director plum in lastyear's Metro Manila Film Festival. Just like his film Banal, which wasbased on the thwarted assassination attempt on Pope John Paul II, Estasyon isalso based on a true story. The GMA-7 reporter reveals that Estasyon isbased on his interview with a devotee whom he met during the 2006 Feast of theBlack Nazarene.

Cesar co-wrote the screenplay with Cris Lim. Both of them previously worked onthe screenplay of Banal.

When watching Estasyon, it would be best to observe subtle clues leftbehind by the reporter-turned-director. The hints are placed along the story,showing a parallelism between Jesus Christ's 14 Stations of the Cross and thelife of the film's protagonist, Christian.

The opening spiel of Martin (portrayed by Mon Confiado) would probably throwviewers off-track. He declares: "Parang MRT ang buhay natin, maramingestasyon."

But throughout the film, viewers will notice that the director strategicallyplaced items that organize this modern-day Via Crucis. To facilitateyour search, it begins with two barangay tanods who declare that theyhave nothing to do with the evil ways of Christian. The huge tarpaulin behindthem distinctly shows the number 1, corresponding to the first Station whereinJesus is condemned to death.

Viewers will notice a white towel bearing the image of the suffering Christthat the young man carries throughout the film.

PEP (Philippine Entertainment Portal) was able to interview the director during the film's screening at the UP Film Institute Videotheque last October 10. Direk Cesar pointed out, "Napakahalaga ng panyo na 'yon kasi symbolism iyon ngcross na pinasan ni Jesus Christ. Parallel kasi ang story ni Jesus Christ sabata [Christian]."

His film also serves as a commentary on Catholic practices.

"Sabi ng three-man team na nanood [from the MTRCB], nagustuhan nila yung filmkasi puno ng symbolisms," says Direk Cesar. "Although may commentary doon onbeing a Catholic, parang tinatanong, naniniwala ka ba sa mga santo o sa panata?

"Gusto ko lang ipakita ang kababawan ng isang panata. Ganun tayong mgaPinoy—minsan nakakatulong pero minsan hindi. Pinakita doon yung hope ng batasa panata na kapag ginawa niya yun, gagaling ang nanay niya."


SYNOPSIS. Martin (Mon Confiado) is a disillusioned filmmaker looking fora cause to fight for. He ends up in Quiapo, trying to document the Feast of theBlack Nazarene. On his quest to explore the futility of praying to an unseen God, he meets Christian (Christian Galindo), a juvenile delinquentrunning for his life and seeking a cure for his mother (Klaudia Koronel).Together, Martin and Christian brave the dangerous and sometimes fatal quest totouch the revered Nazareno and fulfill their promises.

Estasyon brings to light the life of two men who are passing throughdifferent "stations" in their journey.

Rated PG-13 by the Movie and Television Review and Classification Board, itwill open in cinemas starting November 4.



ADVERTISEMENT - CONTINUE READING BELOW