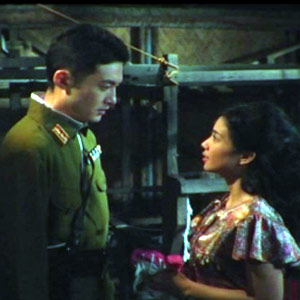 ---
For the 11th edition of Cinemanila International FilmFestival, six entries will compete in Digital Lokal.

These are: Anacbanua, touted to be the first Pangasinense film about apoet's return to his hometown in Pangasinan; 69 ½, about a filmmakerwho accepts an offer to make a pornographic film; Ang Beerhouse, alove story about a man who falls for a girl working in The Red Light Beerhouse;Biyaheng Lupa, a road trip movie; Dolores, which tackles theplight of a girl who is sexually abused by her family members; and Iliw,a love story set during World War II.

This year's jury is composed of Sonja Heinen (Chair), Un-Seong Yoo, and Sherad Anthony Sanchez. Ms. Heinen has worked at the Berlin International Film Festival since 2003, Yoo has worked as a programmer of the Jeonju International Film Festival while Sherad is a Filipino filmmaker behind the award-winning films The Woven Stories of the Other and Imburnal.


This year's edition, which carries the theme "Moving Forward with MovingImages," offers 100 films for moviegoers until October 25. Thefilms will be screened at Market! Market! and the U-view screening roomof Fully Booked in Bonifacio High Street.


The awarding ceremony of Cinemanila will take place at the NBC Tent on October23.



ADVERTISEMENT - CONTINUE READING BELOW
69 1/2

Directed by Ted Manotoc
Cast: Katherine Luna, Nico Manalo, Jao Mapa


Desperate for money, an aspiring filmmaker and his best friend accept the offerof a green-minded businessman to make a pornographic film. Unwilling tocompromise on his artistic integrity, the filmmaker attempts to make an"artistic pornographic musical"—with hilarious consequences.
October 19, Monday Cinema6 4:30PM
Anacbanua
Directed by Christopher Gozum
Cast: Lowell Kip Conales, Che Ramos, Tristan Aguirre

A middle-class and Western-educated poet (Umaanlong) returns to Pangasinan, theland of his birth and his ancestors where he was uprooted for a very long time.He is sick with a lingering physical, mental and spiritual illness. He meetsthe Musia (Muse) who takes care of him during the illness. The Musia performs aseries of rituals that identifies the cause of the Umaanlong's disease andappeases the ancestral and nature spirits inhabiting sacred spaces inPangasinan's physical landscape. The rituals are tests that a novice undergoeswhen he is called and destined to serve his people. Through his soul travel,the uprooted poet reclaims his primal and ancestral connection to the water(danum), to the land (uma), and to the people (katooan), key figures that markPangasinan's landcape, history and identity.

October 17, Saturday Cinema6 9:00PM
ADVERTISEMENT - CONTINUE READING BELOW
October 22, Thursday Cinema6 5:00PM
Ang Beerhouse

Directed by Jon Red
Cast: Ryan Eigenmann, Jerffrey Quizon, Gwen Garci

Noynoy runs a barbecue stand.


October 18, Sunday Cinema6 8:40PM
October 20, Tuesday Cinema6 5:30PM
Biyaheng Lupa
Directed by Armando "Bing" Lao
Cast: Jaclyn Jose, Julio Diaz, Coco Martin, Eugene Domingo, Susan Africa


A bus takes off from urban Manila to the rustic southeastern side of thecountry, carrying a motley group of passengers from all walks of life, each onewith a personal story and telling it in his/her own voice. During thelong journey, as the passengers mentally sort out their past and their future,things happen in the present, by choice or by providence, that make the journeymemorable: the bus blows a tire, a song elicits tears, a butterfly causes acommotion, a photograph gets lost, a head is stoned, some hearts are broken,some are mended. The bus ride poetizes the life journey and poses questions onissues of life and death and where exactly the line is drawn between free willand destiny.



ADVERTISEMENT - CONTINUE READING BELOW
October 19, Monday Cinema6 8:00PM
October 23, Friday Cinema6 4:30PM
Dolores
Directed by Lito Casaje
Cast: Dido dela Paz, Mailes Kanapi, Amante Pulido, Conrad de Guzman, KeithCabañez, RJ Maximo, Joseph Garcia, Redentor Esguerra, and Lara Buenaventura asDolores.

The film is a parable on life's seemingly relentless contradictions; a grippingtale of twisted love, lust, oppression, betrayal and self-redemption. A younggirl is sexually abused by her grandfather, father, and uncle soon after hermother leaves for greener job opportunities abroad. After realizing theconsequences of the abuse, she now decides to reinforce her genuine love to herbrother by totally offering her body and soul to him. What will be the fate ofDolores?



October 17, Saturday Cinema 6 7:00PM
October 21, Wednesday Cinema 6 4:00PM
Iliw

Directed by Bona Fajardo
Cast: Kaye Abad, Hiroyuki Takashima


1941. World War II. The Japanese military forces reach the shores of NorthernPhilippines. Captain Fujiro Takahashi, one of the commanding officers at theCentral Cordillera, meets Fidela. She is the only daughter of Baguio'spostmaster who was incarcerated for being suspected as a guerilla supporter. Asordered by their father, Fidela and her brother Santiago head home to theirnative town Vigan because it is safer and more peaceful there. Fidela andTakahashi unexpectedly meet again in Vigan and become friends. Love bloomsafterwards and they live together against the judgmental eyes of the entirecommunity.



ADVERTISEMENT - CONTINUE READING BELOW
October 18, Sunday Cinema 6 6:30PM
October 24, Saturday Cinema 6 4:00PM

Tickets are priced at PHP120 while students may purchase them for PHP 100.Senior citizens can also avail of a 20% discount. Premiere screenings cost PHP200. The master class for scriptwritring tobe conducted by Paul Schrader costs PHP250.
Gold Tickets are priced at PHP950 each and is equivalentto eight films and the Master Class with Paul Schrader.
CLICK HERE to view the complete screening schedule ofCinemanila 2009.