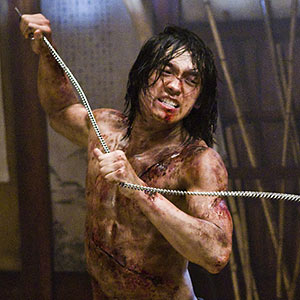 ---
WarnerBros. brings action fans the blood-soaked thriller Ninja Assassin, directed by James McTeigue (V for Vendetta) and produced by JoelSilver, Larry Wachowski and Andy Wachowski (The Matrix trilogy).

NinjaAssassin stars Korean pop star Rain (Speed Racer) as the centralcharacter, Raizo; Naomie Harris (Pirates of the Caribbean: At World'sEnd) as Europol researcher Mika Coretti; Ben Miles (V for Vendetta)as Europol Agent Ryan Maslow. Rain's character trains under legendary martial arts performer ShoKosugi (Revenge of the Ninja) as the ruthless leader of the OzunuClan; while Rick Yune is cast as (Die Another Day) as Raizo's rival, Takeshi.

Ninja Assassin follows Raizo, one of the deadliest assassins in the world. Takenfrom the streets as a child, he was transformed into a trained killerby the Ozunu Clan, a secret society whose very existence is considereda myth. But haunted by the merciless execution of his friend by the Clan, Raizo breaks free from them...and vanishes. Now he waits, preparing to exact his revenge.

InBerlin, Europol agent Mika Coretti has stumbled upon a money traillinking several political murders to an underground network ofuntraceable assassins from the Far East. Defying the orders of her superior, Ryan Maslow, Mika digs into top secret agency files to learn the truth behind the murders. Herinvestigation makes her a target, and the Ozunu Clan sends a team ofkillers, led by the lethal Takeshi, to silence her forever.


Raizo saves Mika from her attackers, but he knows that the Clan will notrest until they are both eliminated. Now,entangled in a deadly game of cat and mouse through the streets ofEurope, Raizo and Mika must trust one another if they hope tosurvive...and finally bring down the elusive Ozunu Clan.

Thebehind-the-scenes creative team includes director of photography KarlWalter Lindenlaub, production designer Graham "Grace" Walker, costumedesigner Carlo Poggioli and editor Gian Ganziano. TheWachowski brothers' longtime stunt coordinators Chad Stahelski andDavid Leitch are also on board as second unit co-directors.
ADVERTISEMENT - CONTINUE READING BELOW

Openingsoon across the Philippines, Ninja Assassin is a Warner Bros.Pictures presentation in association with Legendary Pictures and DarkCastle Entertainment.