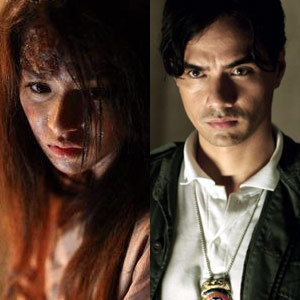 ---
According to actor-producer Richard Gutierrez, the film PatientX aims to give a modern twist to the aswang, a supernatural creature inFilipino folklore. During the grand press con of Patient X, he told themedia, "We have a different take on it. This time, we tried to give it a modernand hindi namin binigyan ng typecast ang aswang. We made our own version."


How different is Patient X from his previous horror film, Sigaw?
"First of all, yung Sigaw, we did that five years ago and now, maraminang natutunan si Direk Yam [Laranas, the director of the film]. The pace ofthe story is much, much faster."
The story of Patient X will reportedly take placein a span of 24 hours.

After co-producing this film, is Richard thinking about doing more films in thefuture?
"May mga plano na but, of course, we still have to wait kung paanotatanggapin ang first production namin. Right now, all of our focus now is onthis film."


Patient X is co-produced by GMA Films, Viva Films, and RgutzProductions. It will be shown in cinemas nationwide starting October 28,2009. The film will have its premiere night on October 25 at SM Manila.


The film has been rated R-13 without cuts by the Movie and Television Review and Classification Board.



SYNOPSIS. When Lukas (portrayed by Richard Gutierrez) was a young boy, he went through thehorrible ordeal of seeing his family murdered by a group of men. He eventuallymoves to the city where he becomes a pediatric surgeon by profession. However,he is still unable to move on from the traumatic experience.

His chance to get closure and reveal the truth behind the murder of his familyarrives when one suspect is caught by the local police. Lukas travels back tothe province to talk to Guada (portrayed by Cristine Reyes), their former maidwho collaborated with the group of men. However, Guada has a secret identitythat Lukas is unaware of.


ADVERTISEMENT - CONTINUE READING BELOW
Another person who is seeking revenge is the police chief (portrayed by TJTrinidad). His own family was also massacred and he will stop at nothing toexact revenge.


Will Lukas and TJ be able to avenge their loved ones? Or will they themselvesbecome victims of the supernatural creatures that killed their family members?


The stars of this Yam Laranas film will conduct a mall show on October24 at Market! Market! in Taguig, and on October 25 at SM Manilawhere the premiere will be held at 7 p.m.


CAST MEMBERS.


LUKAS (RichardGutierrez)
Ayoung pediatrician who travels back to the province where his family wasmassacred after news that the police captured one of the killers.
GUADA (CristineReyes)
An"aswang" who is the wife of the leader of their pack. She once triedto escape their clan but realized she is forever bound to their monstrosity.
ALFRED (TJ Trinidad)
The town's chief of police whosefamily was recently massacred by Guada's clan. He captured Guada and vowsrevenge against her clan.
JACK (NandingJosef)
Thehead doctor at the provincial hospital where Guada is being kept. He is draggedinto the mess and violence that ensue.

BETTY (Miriam Quiambao)
Jack'sloyal head nurse who becomes a bait in the cat-and-mouse rescue mounted byGuada's family.
MARCUS (Elvis Gutierrez)
Guada'shusband, the leader of the aswang pack, the veritable beast. He mounts aviolent rescue mission to get Guada back.
SAMUEL (Dion Ignacio)
Marcus'younger brother, the reckless beast who will kill and destroy anything in hisway.
MATEO (Rocky Gutierrez)
Marcus' other younger brother, the more quiet andreflective one but nevertheless dangerous and violent.
MINOY (Crispin Pineda)
Alfred'sloyal assistant, a low ranking police who eventually becomes a casualty inJack's quest for revenge.
ADVERTISEMENT - CONTINUE READING BELOW
MELINDA (Che Ramos)
Ayoung mother to a girl who is confined in the hospital; clueless about the partshe is going to play in the whole mess.
MIA (JunykaSantarin)
Melinda's daughter who is confined in the hospital because of pneumonia.

ROBERT (Paulo Avelino)
Ayoung nursing aide in the hospital assisting Betty. He is part of the grouptrapped in the hospital for the night.

JAMES (Jhake Vargas)
Lukas' older brother whowas killed by Guada's family many years back.