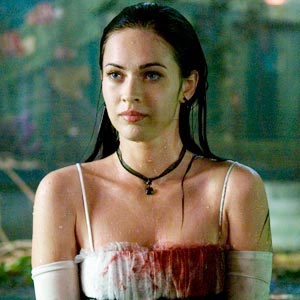 ---
MeganFox plays it wickedly sexy in the upcoming teen horror comedy Jennifer's Body as the titular character who became a man-eater aftera horrifying incident with her favorite local rock band.

Written by Oscar® winner Diablo Cody, Jennifer's Body is about a small town high school student Jennifer(Fox), who is possessed by a hungry demon. She transitions from being"high school evil"—gorgeous, stuck up and ultra-attitudinal—to thereal deal evil. The glittering beauty becomes a pale and sicklycreature jonesing for a meaty snack, and guys who never stood a chancewith the heartless babe, take on new luster in the light of Jennifer'sinsatiable appetite. Meanwhile, Jennifer's lifelong best friend Needy (Amanda Seyfried),long relegated to living in Jennifer's shadow, must step-up to protectthe town's young men, including her nerdy boyfriend Chip (Johnny Simmons).

The narrative fuse ignites when Jennifer takes Needy to see arock band from the city, which has a gig at a local bar in the girls'rural hometown of Devil's Kettle. The sinister rockers sacrificeJennifer to the devil to ensure their success in the music biz, butwhat they don't know is that they've royally screwed up the ritual.They were supposed to sacrifice a virgin—and Jennifer is no virgin.As a result, a demon is channeled into Jennifer, and she starts feedingon young men.
ADVERTISEMENT - CONTINUE READING BELOW

"I think a big issue in horror films lately is that thepermission for the audience to conjure up their own monster has beentaken away," says director Kusama. "To give that back to an audienceand say...what if the most popular, beautiful girl in school is ademon....for real, is a brilliant premise. This idea can spin off intopeople's heads in so many ways, because we've all known that girl inhigh school who's impervious to criticism and who always appears soconfident. There's something that we worship about this kind of girl,but also something that we fear about her."

JenniferCheck is that girl—beautiful, confident, fearless...and a monster.For real. "The way the character is written is supposed to be funny andit would be so easy to play Jennifer one dimensionally," says MeganFox. "It would still be funny if she was one dimensional, but we'veadded so much depth to her. She's still superficial, don't get mewrong, but there are moments when you see her legitimately hurt; she'snot always the aggressor or the predator."
ADVERTISEMENT - CONTINUE READING BELOW

Fox had signed on to play Jennifer early in the pre-productionprocess. "Both Diablo and I had said, 'If there's one girl on earth whois Jennifer, it is Megan Fox,'" recalls producer Daniel Dubiecki. "Wehad coffee with Megan and she said, 'I love this story. I am this girl.I know how to do this. I can kill this role.'"

"This script is by far the funniest script I've read, ever,"says Fox, who shot to motion picture superstardom with her work in Transformers and Transformers: Revenge of the Fallen. "It's alsothe most realistic interpretation of teenagers I've ever read. Diablo'sreally good at relating to how kids really are. I was in high schooljust a few years ago and it was a nightmare!"

"Meganis really interesting because she has this very beautiful, icy façadewhich is perfect for our initial perceptions of Jennifer," Kusamaexplains. "But what was really impressive was her ability to go to adeeper place and expose not only Jennifer's overconfidence,outrageousness or vanity, but also her sorrow, fear and regret."
ADVERTISEMENT - CONTINUE READING BELOW

The scene of Jennifer's sacrifice at the hands of a satanicrock band is pivotal and was one of the most difficult tonally toachieve. "At this point in the story Jennifer is the victim; she's theprey," Fox recounts. "I played it straight and dramatic, even thoughthe scene has a strong comedic edge."

Fox is currently one of Hollywood's most sought-after youngactresses and well known for her breakout starring role opposite Shia LaBeouf in Transformers, directed by Michael Bay and executive produced by Steven Spielberg.She reprised the role in the summer 2009 blockbuster Transformers:Revenge of the Fallen, again directed by Bay and produced bySpielberg. She was most recently seen in the comedy How to Lose Friends and Alienate People as Sophie, alongside Kirsten Dunst, Simon Pegg and Jeff Bridges. She will next be seen in Jonah Hex, Warner Bros.'fantastical live-action adaptation of the DC comic series, opposite Josh Brolin and John Malkovich.
ADVERTISEMENT - CONTINUE READING BELOW

Born in Memphis, Tennessee, Fox began taking dance lessons atage five and continued her training when the family moved to Floridawhen she was ten. There, she began classes in drama and modeling, andat age 13 had already attained some local notoriety. Fox made her filmdebut in Holiday in the Sun and followed with the comedy Confessions of a Teenage Drama Queen. On television, Fox starred in the ABC comedy Hope and Faith.

Jennifer's Body opens October 28 in theaters from 20th Century Fox to be distributed by Warner Bros.