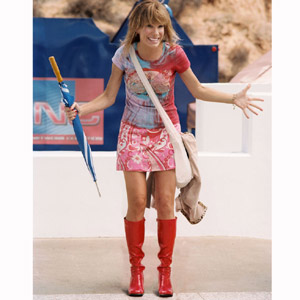 ---
Sandra Bullock stars and produces the upcoming hilarious feel-good flick All About Steve, a story of a girl meets boy with missed calculations.

Bullock is super intelligent Mary Horowitz whom nothing is typical, especially with relationships. When she is set up on a blind date with handsome cable-news cameraman Steve (Bradley Cooper), Mary thinks their chemistry is undeniable. Steve, on the other hand, thinks Mary is crazy. Mary, who just knows she's found her soul mate, decides to do anything and go anywhere to be with him. Mary begins to pursue Steve relentlessly as he crisscrosses the country, covering breaking news stories.

Both an actor and producer, Bullock who is known for her discerning eye for good material takes us on a riotous ride in the following Q&A for All About Steve.

Q: What is it in the script that got you interested to star and produce the film?
A: "At the center of the comedy was the peculiar crossword constructor who seeded the story with heart and a raucous bite. Mary is this incredibly brilliant person whose been raised in this bubble by her loving, overprotective parents. So she's grown up to be exactly who she's supposed to be without any outside influences."

Q: How did you get into the peculiar character of Mary?
A: "At first, I didn't know whom to model Mary after, so I had to start taking pieces of people whom I knew. I took a three and a half year old. I took Kim Barker, our writer. I took myself at my most amped and manic. Then I just pieced it all together."

Q: What is different about your character Mary?
A: "The world isn't too accepting of a true individual like Mary, and the film's comedy reflects that with absurdity and brazenness at every turn. Mary is different from most because she happens to be extremely intelligent. She hasn't managed to find other people like her. I enjoyed embracing those differences."
ADVERTISEMENT - CONTINUE READING BELOW

Q: What are some of the challenges in the movie?
A: "Her loquacious puzzle-head character has rapid-fire dialogue exploding with facts and figures, so veering off the page was done judiciously. You can't improv a lot, when I did attempt to improv, I'd have to know the origin of the word, every definition, and three different language versions of that word. So I'd have to pick a subject that I'm very familiar with, and just ramble. I was able to do it a couple of times. It was very challenging."
Q: How did you relate to your character?
A: "It's that part of us that we're told to lose once we become an adult--the freedom of expression, the freedom of joy, excitement and innocence. I had a lisp I had to get rid of, and I had to have speech therapy. So then, I just go, "Why? Why did I need to get rid of a lisp?" It's the whole "What is normal and why can't we embrace adults like her?" We're very excited to embrace children like that, but we don't trust adults who are naïve and kind and happy. We want them jaded and cynical and street-wise. Why is that?"
Sandra Bullock's career milestone over the years which earned her two Blockbuster Entertainment Awards, four MTV Movie Awards, an American Comedy Award, eight Teen Choice Awards, four People's Choice Awards for Favorite Female Movie Star, a Screen Actor's Guild Award and two Golden Globe nominations and NATO/ShoWest's "Female Star of the Year" certified that she is indeed still one of Hollywood's most sought after leading ladies.

Recently seen in Disney's The Proposal, starring opposite Ryan Reynolds, the movie is Bullock's largest grossing film to date. Following acclaimed roles in several motion pictures, Bullock's breakthrough came in the 1994 runaway hit Speed opposite Keanu Reeves.

Her string of hit features some of which she also produced include Speed 2: Cruise Control, While You Were Sleeping, The Net, Forces of Nature, Hope Floats, Practical Magic, Gun Shy, Miss Congeniality, Miss Congeniality 2: Armed and Fabulous, A Time to Kill, In Love and War, Two if by Sea, The Vanishing, Demolition Man, Wrestling Ernest Hemingway, The Thing Called Love, the voice of Miriam in the animated film, The Prince of Egypt, Divine Secrets of The Ya Ya Sisterhood, Murder By Numbers, Two Weeks Notice, Infamous, Premonition, The Lake House and Crash.
ADVERTISEMENT - CONTINUE READING BELOW

Bullock made her debut as a writer/director with the short film Making Sandwiches with Matthew McConaughey, and which debuted at the 1997 Sundance Film Festival. She recently concluded her stint as the executive producer of the highly successful The George Lopez Show, which aired on ABC for six seasons.
All about feel-good comedy in All About Steve starts November 4 in theaters nationwide from 20th Century Fox to be distributed by Warner Bros.