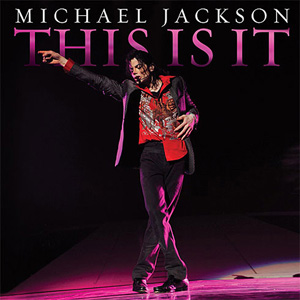 ---
The good news first: This Is It is in no way ghoulish. It is not the story of a dead man walking (well, the story of a dead man rehearsing at the Staples Center in Los Angeles for a series of 50 London concerts). If anything, after you finish singing along to songs that have marked your youth in one indelible way or another, you'll find it a bit sad.
Sad, because you will see that when Michael Jackson said he wanted to live onstage, he meant it: Seeing him take command of the bare, darkened proscenium of the Staples Center, there is no hint of the turmoil and doubt that marred the later years of his life. He is not the broken spirit who sought sanctuary in his surrealistic Neverland estate or sought refuge in more and more bizarre cosmetic surgeries. He is not the traumatized man who fled to the Middle East after being acquitted of child molestation charges in 2005. He is cozy, confident, assured of his talent—when he launches into the impromptu melismas of "Human Nature" or tosses off an affectionate version of his Jackson 5 hit "I Want You Back," the talent just seems to flow out of him as if he cannot help it.
ADVERTISEMENT - CONTINUE READING BELOW
The flipside of his effortless, playful talent is his icy perfectionism. If he wants to live onstage, it's obvious he also wants to control his house. At one point, he coaches his musical director Michael Bearden on the exact way he wants the syncopated interlude of "The Way You Make Me Feel" to be played—Michael says he wants the beats played out "like you're dragging yourself out of bed," and Bearden doesn't get it. While the musical director deflects the issue by joking about "booty," it's obvious that Michael can be a stinging taskmaster when his expectations are not met.
Sad, because by its nature as a sleekly produced "home movie" of Michael's rehearsals from March of this year until his death in June 25, you don't get to see the performances as they were meant to be seen. All you get is the feel of what could have been—geometric skyscraper girders as a backdrop for "The Way You Make Me Feel," a computer-generated army for "They Don't Really Care About Us," a full-blown graveyard and a giant black widow spider for what could have been a fun rendition of "Thriller."
ADVERTISEMENT - CONTINUE READING BELOW
This sense of non-completion extends to Michael's performances. He does not lose himself in his performances—often stepping outside himself and dissecting his moves—which means he doesn't quite transport us the way he usually does. He often scolds director Kenny Ortega for letting him strain his throat. After one heartfelt duet with backup singer Judith Hill on "I Just Can't Stop Loving You," Michael complains that he should be conserving his voice, to which Ortega responds from off-camera that the star allowed himself to be in the moment, to "feel it."
And saddest of all, the music. Even performed in half-baked rehearsal mode, there is no doubting their magic: the revolutionary melding of rock and R&B in "Beat It"; the worldly sophistication of "Wanna Be Startin' Somethin'" and its Cameroonian flavoring of "Mama-se, mama-sa, mama-coo-sa"; the thumping, dangerous bass line of "Billie Jean." These are songs that not only get you tapping your feet, they take you back to a specific time and place—that era of your life forever frozen by the realization that you were witnessing something unseen and unheard of before in pop music.
ADVERTISEMENT - CONTINUE READING BELOW
And now, watching a fallen idol perform these alchemical songs, you realize that those times of your life are forever gone. Nothing will be the same ever again. This Is It, indeed.
Editor's Note: This Is It is culled from hundreds of hours of rehearsal and behind-the-scenes footage of Michael Jackson. The film's footage was shot in June 2009 at STAPLES Center in Los Angeles, California and The Forum in Inglewood, California, as the King of Pop prepared for the series of fifty concerts he planned to present at the O2 Arena in London.
Michael Jackson's This is It is now being screened in the Philippines for a limited two-week run. The film is also being shown at the Digital IMAX theater of SM North EDSA.